Deadpool 2
(2018)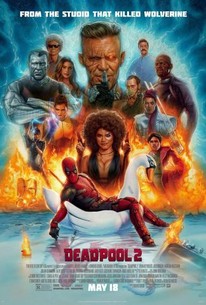 TOMATOMETER
AUDIENCE SCORE
Critic Consensus: Though it threatens to buckle under the weight of its meta gags, Deadpool 2 is a gory, gleeful lampoon of the superhero genre buoyed by Ryan Reynolds' undeniable charm.
Movie Info
After surviving a near fatal bovine attack, a disfigured cafeteria chef (Wade Wilson) struggles to fulfill his dream of becoming Miami's hottest bartender, while also learning to cope with his lost sense of taste. Searching to regain his spice for life, as well as a flux capacitor, Wade must battle ninjas, the yakuza, and a pack of sexually aggressive canines, as he journeys around the world to discover the importance of family, friendship, and flavor - finding a new taste for adventure and earning the coveted coffee mug title of World's Best Lover.
Critic Reviews for Deadpool 2
Audience Reviews for Deadpool 2
Or Ryan Reynolds and Josh Brolin outline the entertainment/media zeitgeist of the times for us lest we were clueless: to wit, only the crew and the orchestra are not seen in this uber-meta take on the whole superhero movie thing happening lately. Breaking the fourth wall? Check. Referencing the star outside of the film? Check. Referencing other films in the Marvel Universe? Check. Even Thanos??? Even Thanos. Could the internet fans and comic convention fans input be influencing what makes it to the screen anymore? You betcha, and this work is the proof and the tip of the iceberg, the pendulum swinging entirely away from the ol' you'll take what we serve you and you'll like it studio think. This is very nearly a fan made/studio film. And what a ride it is!
Kevin M. Williams
Super Reviewer
Sure, the sequel to the R-Rated smash hit is bigger, louder, faster and more spectacular. There is a "but" behind that sentence, though. The CGI is mediocre, the plot fits on a beer coaster and the decision to kill off a beloved character early on, just to have a good time with anal jokes afterwards is questionable at best. The new additions like Brolin and Beetz work, so do some movie quotes and 4th wall jokes, but unfortunately the potty level is in the majority. Slightly disappointing but the hardcore fans will hardly mind.
½
Lampshading your insolent, vulgar and filthy ass out and going full I-know-this-is-a-fucking-movie meta can be Deadpool funny, even when you reuse clichés that were already old back in the Bourne trilogy - and as an impudent salad of pop-references it only gets better and better.
Carlos Magalhães
Super Reviewer
Deadpool 2 Quotes
There are no approved quotes yet for this movie.