Dear Mr. Gacy
(2010)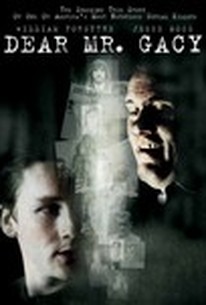 AUDIENCE SCORE
Critic Consensus: No consensus yet.
Movie Info
William Forsythe stars as John Wayne Gacy in this shocking drama detailing the bizarre relationship between the notorious serial killer and the clever college student who put his own sanity on the line in a bid to get the information the police couldn't. Inspired by author Jason Moss' autobiographical book The Last Victim, Dear Mr. Gacy follows overachieving student Moss (Jesse Moss) as he establishes contact with the killer in prison for a classroom assignment. Determined to gain Gacy's trust, Moss assumes the role of a sheepish teen enamored with the prolific psychopath. Following a series of intensely personal phone calls in which both the writer and his subject laid bare their most intimate secrets, Moss ventures behind prison walls for a private meeting with Gacy. Little did Moss realize he was playing with fire; in his bid to manipulate Gacy into divulging untold details about his notorious murder spree, the probing student granted his twisted subject unprecedented access to his own fragile psyche - a fateful misstep that eventually cost the author his life when he committed suicide in June of 2006.
Critic Reviews for Dear Mr. Gacy
All Critics (2) | Fresh (1) | Rotten (1)
It is crass, cheap, and a failed attempt at manipulating its audience, and in doing so the truth is crudely thrown under a bus in the name of easy thrills.
Low budget, not particularly well acted and with a basic script, yet somehow, this film manages to elicit goosebumps.
Audience Reviews for Dear Mr. Gacy
Based on actual events, and consequently a book titled "The Last Victim". Fascinating topic. I have always found the subject of serial killers an extremely interesting one, anyway. PLUS the case of John Wayne Gacy is an especially interesting one, since I grew up in the same area, and remember it well. For a college student to choose to try to befriend serial killers for a school project is crazy. Jason Moss talked to some of the most notorious serial killers to ever exist. This apparently affected him so badly that he ended up committing suicide on 6/6/06. There are very interesting interviews with him on YouTube. Check it out...
Cynthia S.
Super Reviewer
Another portrayal of a person who wanted to do something unusual in life and ended up with (relatively) unusual outcome.
familiar stranger
Super Reviewer
½
When the subject comes up in everyday conversation of serial killers, personally two names immediatly rear their heads in my mind. Jeffrey Dahmer and John Wayne Gacy. Gacy one of the more spookier killers i have read about in us history who was responsible for luring young male prostitutes home in his "nice guy" guise and murdering them and burying their many bodies in his root cellar of his own home. Based on true events that occurred during the last few weeks of Gacy's life before he finally succombed to lethal injection On May 10, 1994. Young university law student approaches his professor with the idea on doing the latest required thesus on Gacy himself sort of an psychological profile. The professor advisses him to look elsewhere for a subject as serial killer thesus's are wayy over done. Jason promises he will deliver answers into Gacy's psyche that have never surfaced either by interviews by both the FBI and media. Jason thentakes it upon himself to write a letter to Gacy on deathrow. A relationship between the two begins. Jason tiptoes around ,madness as he tries his best not to be sucked into Gacy's evil world. Jesse Moss was awesome in this and i couldnt help but compare him to a young Tom Cruise but that still remains to be shown. Forsythe who i feel is very underrated pulls off the Gacy charector brilliantly. this movie pulls no punches in showing you the dirty parts of the world that are usually whitewashed by hollywood!
Dear Mr. Gacy Quotes
There are no approved quotes yet for this movie.