Death And Cremation
(2010)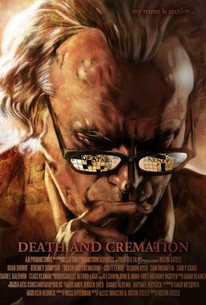 AUDIENCE SCORE
Critic Consensus: No consensus yet.
Death And Cremation Photos
Movie Info
In Crest Point, people go about their day-to-day lives with no sense of urgency and standard stereotypes abound. There's the high school bully with the popular girlfriend. The single mother raising her son after her husband has died. The detective who's never cracked a big case. Then there's STAN (Brad Dourif), a single 59 year old recluse who contributes to society by offering cremation services from the basement of his funeral home. JAROD LEARY (Jeremy Sumpter), a bullied and fatherless 17-year-old high school outcast doesn't even try to fit in with his high school peers. Dressed in black, with his hair and fingernails matching his wardrobe, Jarod draws attention to himself but not in a good way. He's constantly picked on by resident jock DAVID VALENTINE (Blake Hood) and doesn't seem to have much luck with the ladies either. Many decide he's a freak including cool girls LINDSEY WEAVER (Kate Maher) and Courtney Taylor (Madison Eginton), and although Courtney doesn't mind him, Lindsey has other plans. In addition to troubles at school, home life for Jarod isn't much better. Living out of a trailer, Jarod has to put up with nagging from his mother, MARTHA LEARY (Debbon Ayer), and her budding romance with self-righteous immigration attorney RICK WATERS (Sam Ingraffia). Sick of the badgering, Jarod finds after-school work as an apprentice at Stan's cremation house. The two quickly develop a quirky working relationship and soon Jarod starts to see Stan as a father figure. Not long after Jarod begins working at the cremation house people start to go missing, including Lindsey Weaver. Her parents BILL (Daniel Baldwin) and BECKY WEAVER (Staci Keanan) tell suburban detective MATT FAIRCHILD (Scott Elrod) about their recent family visit to a cremation house, and all trails lead to Stan. Rick begins to apply pressure on Jarod to accept him as Martha's boyfriend just as Jarod gets acclimated to life at the cremation home. When Jarod rejects a summer trip to Alabama witnessing Rick shows his ugly side. Detective Fairchild, meanwhile, steps up his investigation as more bodies amass. It's then that Stan must decide if protecting his newfound trainee is worth killing for. -- (C) Official Site
Critic Reviews for Death And Cremation
Audience Reviews for Death And Cremation
From Peter Pan to a bullied outcast, Jeremy Sumpter continues to show his tremendous versatility as an actor in Death & Cremation. This cast was the whole reason I wanted to see this movie, but unfortunately it falls well short of my expectations. Stanley (Brad Dourif) is a loner and a serial killer who runs the perfect business for getting rid of evidence, a crematorium. He's a lonely man and nothing exciting happens to him until a loner named Jared (Sumpter) starts working for him. This film tries very hard to be something it's not and that's creepy. Death & Cremation isn't about blood and gore, but rather moves very slowly and methodically in order to try and freak us out, but sadly it doesn't. Stanley and Jared aren't guys you're going to be scared of, more like two guys you'd like to hang out with and that's the problem. The audience can relate to them and isn't scared of them at all. That being the case this film should have gone the other way and been extremely bloody and disturbing, but it's not that either. The story is bland and the movie is slow, but the cast is amazing. Brad Dourif plays a psychopath better than anyone and it really wouldn't surprise me if he is in fact a serial killer. Here he's teamed with one of my absolute favorite actors, who is also superb, but they're giving their all in a slow, sloppy film, that just doesn't cut it.
Todd Smith
Super Reviewer
Death And Cremation Quotes
There are no approved quotes yet for this movie.