Death and the Compass
(1996)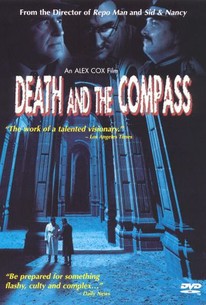 Death and the Compass Photos
Movie Info
Filmed on location in Mexico City, this mystery follows a hard-boiled detective as he works to solve the murder of a Talmudic scholar. The detective is assisted by a Jewish journalist.
Critic Reviews for Death and the Compass
Audience Reviews for Death and the Compass
½
Despite its florid visuals and a game cast, "Death and the Compass" is nothing more than an empty exercise about the nature of power as triangulated between a bureaucrat, detective and a criminal. The central question is who really has the most power? The responsible one? The worker? Or the one who subverts the system in the shadows? Written and directed by Alex Cox, "Death and the Compass" is told from the viewpoint of Treviranus(Miguel Sandoval), the former commissioner of detectives. What he is so bitter about is the positive attention one of his detectives, Erik Lonnrot(Peter Boyle, with a rare chance to stretch his legs in the lead), got in his time. As Treviranus puts it, wasn't he the one who solved the crimes while Lonnrot went off on his wild goose chases, ignoring boring street crimes in the bargain? Take the case of a murder which Treviranus thinks is only the fallout from a routine diamond smuggling ring gone wrong while Lonnrot suspects something much more sinister, getting research assistance from Alonso Zunz(Christopher Eccleston), a young journalist.
½
As a fan of Jorge Luis Borges, I was interested in seeing this film set in a totalitarian future about a private detective who discovers a bizarre pattern in a series of recent serial murders. Alex Cox uses heavy symbolism and expanded a 55-minute television production, which is fairly evident, as several long stretches of the movie are devoted to showy and distracting camera angles, moody smoke-lit settings and several vague discussions about the nature of man and how fate binds our actions and blah blah blah...
El Hombre Invisible
Super Reviewer
Death and the Compass Quotes
There are no approved quotes yet for this movie.