Death Defying Acts
(2008)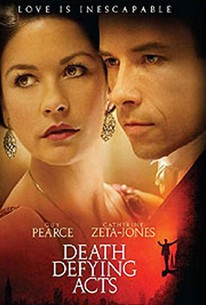 TOMATOMETER
AUDIENCE SCORE
Critic Consensus: Pretty but dull, with unconvincing turns from Zeta-Jones and Pearce. If you want a period magician movie, seek out The Prestige or The Illusionist instead.
Death Defying Acts Photos
Movie Info
"Death Defying Acts" is based on the life of Harry Houdini, the fictional tale of how an escapologist fell in love with an Edinburgh woman.
Critic Reviews for Death Defying Acts
Audience Reviews for Death Defying Acts
½
This seemed destined for a main stream release and it has all the features of a generally popular film. For some reason, it never got that full Hollywood treatment so only a few of us got to see this mediocre gem with few shining parts.
John Ballantine
Super Reviewer
½
A fictitious account of Harold Houdini. It focuses on a love he has for a woman that claims to be psychic. Unfortunately the film is void of any real engagement or excitement. Zeta-Jones is fine, but never for a single second did I believe she was going to screw over Houdini. This left me with a rather predictable love story that I was hoping would hurry along. There was never a real sense of wonderment at Houdini's tricks, and the film tried to hard to pull away his showbiz facade. We are left with an interesting and emotionally frail man, but since it isn't juxtaposed against how he was perceived it wasn't particularly interesting. Saoirse Ronan shows why she is becoming a fantastic lead actress, but the majority of this just never peaks that high.
Luke Baldock
Super Reviewer
½
Overall this really is a pleasant and enjoyable film, but it is incredibly typical. There is nothing particuarly special about it, nor does it do anything unexpected. It is mediocre to the very end, but at the same time decent to watch. I picked this up because Saoise Ronan was in it, and she is so young and tiny! And at the same time, she is just as great and confincing as the rest of the cast. The film is extreamely atmospheric, that is the main thing that stood out to me. Well, and the score is decent. Other than that, everything is just... okay. The story is inoffensive, the acting is decent, the direction seems competant enough, but nothing is that extraordinary. I just wish there was more to grab ahold of, to rave or whine about. I would even like some major flaws if there were some killer virtues to go with them. I had never heard of this movie until actually watching it, and I cannot help but thing that there is a reason for that. So, I really cannot say that I recommend it, but at the same time I do not NOT recommend it... It is an odd blend. The film is decent enough, but you really are wasting your time in watching it. There is nothing to make you think, or make you feel. You will not be stimulated at all.
Death Defying Acts Quotes
There are no approved quotes yet for this movie.