Death Note
(2017)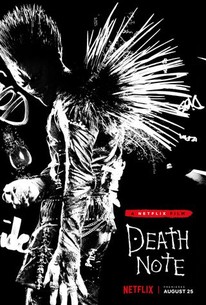 TOMATOMETER
AUDIENCE SCORE
Critic Consensus: Death Note benefits from director Adam Wingard's distinctive eye and a talented cast, but they aren't enough to overcome a fatally overcrowded canvas.
Movie Info
Light Turner, a bright student who stumbles across a mystical notebook that has the power to kill any person whose name he writes in it. Light decides to launch a secret crusade to rid the streets of criminals. Soon, the student-turned-vigilante finds himself pursued by a famous detective known only by the alias L.
News & Interviews for Death Note
Critic Reviews for Death Note
Audience Reviews for Death Note
Whilst being a hardcore 'Death Note' fan since the age of 17, my expectations for this particular film adaptation of Tsugumi Oba and Takeshi Obata's best selling manga series were very low to say the very least. Director Adam Wingard shows he has a clear vision for his film adaptation, though for the most part it feels incredibly underwhelming, especially at how complex and investing the original Death Note manga and anime were. The film adaptation itself is reduced to being subjugated by plenty of petty little American tropes, campy cringe-worthy horror cliches and an annoying romantic subplot followed by plenty of over-dramatic moments and terrible soundtrack choices that doesn't compensate to the original source material. Performances from the actors were sub-par to say the very least, nothing too special or even broadly appealing to fans and non-fans alike. Wilhelm Dafoe however, is excellent unsurprisingly as Ryuk the Shinigami; its another one of those rare cases where you have a small element in the film worth seeing even with what little he has. Other than that, the film just wasn't that good at all, I'll give credit to the cinematography looking sleek and stylish, though it this film's Americanization it's losing the compelling and complex edge that made the source material amazing in the first place. It's all too easy to say it's overall; an underwhelming adaptation as it's an underwhelming film, I wasn't too surprised given the odd approach and the questionable choices to the various changes this film made in terms to the source material, it's doesn't stack up at all except upon scratching the surface and not digging deep enough.
Luke Eberhardt
Super Reviewer
½
Why didn't they just slap some eyeshadow on Willen Dafoe?!? Not terrible, but stylistically over complicated, in every way. Should have been done as a series with better actors and less melodramatic lighting and production design. Impressive, especially for a cultural port which are almost universally terrible, but just off.
_kelly .King
Super Reviewer
I've never been a big anime or manga guy. The only anime I've ever really recalled watching for any length of time was Shin Chan and that was mostly because its sense of humor was very irreverent. And I think that's the only type of anime I'd enjoy, stuff like Space Dandy that's comedy and absurd. I don't think I'd get into the super serious and melodramatic animes. Maybe I would, but that's just me. As far as anime films go, Hayao Miyazaki is the fucking man and I've watched all but 3 of his films. I like Studio Ghibli stuff and I've watched a few other non-Ghibli animated films, but not as many as I probably should have. I wanted to see Letters to Momo, which was on Amazon Prime for quite a bit, but I just never got a round to it. That's neither here nor there. As far as Death Note is concerned, I was certainly familiar with the manga, the anime and, to a lesser extent, the two Japanese films. I think it's one of those series that, even if you're not into anime and that style, you'd know of even if your knowledge of geek culture was minimal. Having said that, I didn't think this film was good. I'm not gonna sit here and lie to you. I find the concept to be absolutely great, however, and I think that it would have made for a better movie under better circumstances. I like Adam Wingard. I was a big fan of The Guest, You're Next and the first two VHS movies. It's clear that this guy has talent as a filmmaker and you get to see that on display here, from a technical aspect at least. But I'll be damned if I didn't find this movie to be a complete and goddamned mess as it relates to the narrative. Part of me wonders how much of the negative reaction is actually legitimate and how much of it is fanboys that are upset their favorite manga/anime series wasn't made exactly how they would have wanted it. I'm sure there's a lot of the latter. Because, as I mentioned, while the movie isn't good, it's certainly perfectly fine to watch. I'll say this right now, if this movie was 100 minutes of Light writing names in the Death Note and their deaths playing in as gory a fashion as is possible, this movie would have been great. You can even introduce the whole morality angle with Light questioning whether he's doing the right thing or not as his girlfriend will do whatever she must to protect herself...and Light. And you certainly get some of that. Hell, the film might have also been better if, removing Light's girlfriend from the equation, he just had to deal with Ryuk just being a prick. Ryuk is, quite easily, the best character in the entire film and Willem Dafoe plays him to perfection. I just wish the character had more of a presence than he actually did. But going back to an earlier point, as it relates to the gore. The movie sort of fools you into thinking it's gonna be a complete gorefest by showing you some pretty damn gruesome deaths early on. The decapitation and restaurant scenes are something to behold, for sure. There's also this scene where this guy is run over by a SWAT truck and, again, it's pretty incredible. And that's about it for the truly over-the-top gore. They literally blow their wad 25 minutes into the movie and it is downhill from there in the gore department. And, to be fair, a movie doesn't need gore to be good. But that is true when you substitute the gore for something that's as equally effective. And, surprise surprise, what they substitute with isn't effective. Ok, where do I start? Light and Mia, his girlfriend, use the Death Note to give a voice to the voiceless. Someone who'll stand up for those that have always been stepped on in their lives. They give this 'being' a name, Kira, and proceed to kill over 400 people who, supposedly, deserve it. As a result of this, a cult of Kira starts to rise up. This isn't a bad idea, except you rarely get to see any of this cult. They just tell you that a cult has started up that supports Kira's actions. The problem is that this whole cult thing feels completely inconsequential. And it's just poorly-handled, honestly. It's like Light and Mia kill a few people and now they have a cult of supporters. It doesn't feel earned. Moving on, the film then becomes a cat-and-mouse game with this eccentric private detective named L, whose identity and face remain hidden in order to avoid being put in the Death Note by Light. Then the film becomes about Light (and Mia) trying to find out this guy's identity to kill him in order to stop the investigation. And, again, this isn't a bad idea, but there's not nearly enough time to get to know both characters of Light and L to make this feel like the big showdown that they want to make it out to be. There's also the whole thing with Mia being completely blinded by the power the Death Note brings and her manipulations of Light in order to get him to give her the book. Did I mention that Light's father is also a cop and how that blinds him to the truth. When I write it out like this, it doesn't sound like too much, but the flick really is overloaded with too much content and not enough time. And not to mention the fact some of the flaws with Light and Mia being so damn open about what they do in some occasions and some downright idiocy from their part. I'll be honest, I didn't find any of the characters to be that likable. I suppose the whole idea is to be morally grey, but I'm certain you're supposed to invest into Light as a lead character and you want him to realize the error of his actions. But I never reached that point. The climax was so ineffective. Mia and Light are on this Ferris wheel and the whole thing starts to fall apart, as a result of Mia grabbing the Death Note after Light made a plea to stop themselves from continuing this cycle. Anyway, they're hanging off the side of the wheel, about to fall off, and I said, out loud, 'fuck it, you both die'. I don't think that was the conclusion you were meant to come to. Yes, Light came to the realization that what they did was wrong, but he's still not exactly likable. Mia was insufferable, so I'm glad she died. Another thing is that Light, even after Mia put his name in the Note, still mourns her death. What a fucking dumbfuck. That makes him even more unlikable to me. This girl put his name in the Death Note in order to manipulate him into giving her the book so she could continue her murdering ways. And he still loves her. What a fucking A-class moron. To me, the biggest flaw in this movie, and I already mentioned it, is the fact that there's way too much going on here for the amount of time they have. Nothing is given time to breathe or simmer. It's all given to you in a compact, but messy, package. The casting is strong all around, with Dafoe stealing the show with his voice acting, so the problems aren't on them, it's just on the scripting of everything. So, yea, I guess 2 stars feels appropriate for this. A large part of it certainly watchable and the film is visually appealing. Some of the techno-synth score was also really good. But there's no denying that this should have been so much better than it actually was. It's almost as if a television series would have been a better outlet for this story. Funny how that works. Either way, this is ok, but I can't recommend. I think non-fans will enjoy it more than fans, but that's not really gonna amount to much in the long run.
Jesse Ortega
Super Reviewer
Death Note Quotes
There are no approved quotes yet for this movie.