Death Note: The Last Name (Desu nôto 2)
(2008)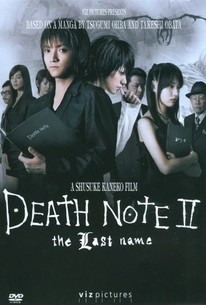 Movie Info
The battle of wits between Light Yagami (Tatsuya Fujiwara) and L (Ken'ichi Matsuyama) continues in Shusuke Kaneko's sequel to Death Note, Death Note: The Last Name. Light manages to get himself appointed to the team investigating the identity of Kira. He also gains an ally when pigtailed TV cooking show host Misa Amane (Erika Toda) finds her own Death Note. She's completely smitten with Kira, and having lost her own family to a hideous crime, she's eager to join in his cause. Unlike Light, Misa is even willing to trade half of her remaining lifetime to her Death Note's demon owner, Rem (voiced by Peter), for the power to see the names of others, so that she can essentially kill anyone she can see. Once he learns the identity of this second "Kira," Light is naturally eager for her to find out L's real name, so that he can be killed before he captures Light. Misa is more interested in being Light's girlfriend. L, perhaps unsurprisingly with his diet, turns out to be Misa's biggest fan, and manages to temporarily foil Light's efforts to determine his true name. As the authorities close in, taking both Light and Misa into custody (over the objections of Light's father [Takeshi Kaga]) and putting them under constant observation, Light is forced to come up with and extremely clever plan to avoid being captured, even if it means giving up the Death Note. Death Note: The Last Name had its New York premiere at Subway Cinema's 2007 New York Asian Film Festival with director Kaneko in attendance.
Critic Reviews for Death Note: The Last Name (Desu nôto 2)
All Critics (5) | Top Critics (1) | Fresh (4) | Rotten (1)
It's like Infernal Affairs/The Departed crossed with Devilman, Primal Fear and Drop Dead Fred. If that combination doesn't scream "Watch me!" to you, well, you're wrong.
A pity that Kaneko's direction is once again too workaday to fashion such strong material into a truly engaging visual experience.
Audience Reviews for Death Note: The Last Name (Desu nôto 2)
Pretty good second installment. The last name made me sad, my favorite character.
Nicki Marie
Super Reviewer
½
[img]http://images.rottentomatoes.com/images/user/icons/icon13.gif[/img]
Directors Cat
Super Reviewer
½
Aside from a completely tampered with ending, "Death Note 2: The Last Name" embraces it's title and surpasses the original film in many ways, even if it strays further away from it's source material. We get more depth into the characters and how they feel about everything, and everyone is much smarter, making this a much more engaging film all around. There are minor complaints I have, which I can't mention without spoiling, but I'll just say that the ending in the original source material was much better handled, rather than things just unfolding like this film did. The direction is a bit better, the camerawork is impressive, and the script is great! I again loved watching this film for what it was, trying hard not to compare it. The ending is kind of a let down, but it's a terrific thriller/mystery.
Death Note: The Last Name (Desu nôto 2) Quotes
There are no approved quotes yet for this movie.