Death Race
(2008)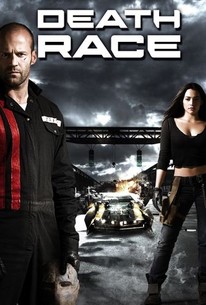 Movie Info
The Transporter star Jason Statham takes the wheel in director Paul W.S. Anderson's remake of the Roger Corman classic about a hyper-violent cross-country race that breaks all of the traditional rules of the road. The time is the not-so-distant future, and as America's prisons begin overflowing with violent criminals, the powers that be devise a grisly game that will free up space in the cells and entertain the masses at the same time. Jensen Ames (Statham) is a three-time speedway champion with a dark past. A survival expert and ex-con whose sordid history comes back to haunt him when he is framed for a murder he didn't commit, Ames is forced to choose between donning the metallic mask of a mythical racer known as Frankenstein or languishing away on Terminal Island -- America's most notorious penitentiary. Over the course of the next three days, this unlikely champion will get behind the wheel of a nightmare machine outfitted with machine guns, grenade launchers, and flamethrowers in a desperate attempt to outrun some of the most violent criminals ever imprisoned. Should Ames be the first to cross the checkered flag, he will win his freedom; should he come in second, however, death would be preferable to a grim future in a cramped concrete cell. Co-stars include Joan Allen, Ian McShane, Natalie Martinez, and Tyrese Gibson, who takes over the role of Machine Gun Joe, made famous by Sylvester Stallone in the original. ~ Jason Buchanan, Rovi
News & Interviews for Death Race
Critic Reviews for Death Race
Audience Reviews for Death Race
½
An ex-racing car driver is framed for the murder of his wife in order to force him to impersonate the dead star of a gladiatorial game show of the near future. His name was Frankenstein, which is ironic, because this is a cinematic pick'n'mix of many cult sci-fi movies. It has the story of The Running Man with shades of Mean Machine, the themes of Rollerball, the environment of Escape From New York and the style and action of Mad Max. Original, it most certainly ain't. It has the usual trappings of the modern action movie, namely characters who are the inevitable mix of gang banger stereotypes and hotties and it's over directed in the way that has been de rigeur over the past few years, all set to an appalling pop music soundtrack. As a whole, it's like watching a videogame adaptation of a game that doesn't exist. But what a bloody cool videogame it is! The dialogue and characters are shall we say "functional", but it never descends too far into depressing macho porn and leaves plenty of room for the action scenes; in this film the cars are most definitely the stars! The races are thrillingly staged, and are clearly intended as the centrepiece of the film in a similar way to Mad Max 2. It's a shame they had to water down Statham's character by making him an innocent family man, because let's face it, Max and Snake Plissken were so cool precisely BECAUSE they were utter bastards. It may be low brow, but entertaining it truly is, and is one of the few action films I've seen in recent years that actually lives up to its trailer.
Attention holding, entertaining, solid B-movie that's decently well made and delivers what it promises. The story, and elements there in are contrived and unoriginal, but I didn't mind. The attempts at social satire are well-intended, but ultimately prove weak. Tweaking the premise of the Roger Corman original, this remake readjusts things, positing a near future where the issue of prison overpopulation is dealt with by hosting violent demolition derby car races with the inmates, which are broadcast for the masses to enjoy. Problems are taken care of and people are entertained, so the corrupt powers that be think its a win win...until one man decides to buck the system....with explosive results. Okay, so the film is kinda dumb, even though it attempts otherwise. It's mostly just 'turn your brain off' filler, and, sometimes, that's okay. Anderson is great at this kind of crap, so if this sounds like something you wanna see, then go do so.
Chris Weber
Super Reviewer
OK this is highly highly predictable stuff but its damn good fun stuff thats for sure :) Death Race is basically a computer game blueprint ready to go, 'Carmageddon', 'Destruction Derby', 'Road Blasters' etc...you all know the score here hehe. Along with its obvious movie rip ideas ( 'Mad Max', 'Running Man' etc..) its a wholly unoriginal film but its rip roaring fun I gotta admit. To the sound of some great heavy metal tunes the car race sequences are pretty decent, car lovers and petrol heads especially will enjoy. The cast is a good colourful mix that do look quite dangerous and nasty, its almost in the same vain as 'Con Air' in certain aspects, and the films look is pretty rough and realistic, in other words it doesn't look like an obvious set like most other Anderson films. Some silly things do grate...the fact that these cars wouldn't be able to race very fast with all that junk stuck on them I'm sure, they would handle like tanks with the weight increase. Also I'm sure in reality Stathams Mustang would thrash Gibbson's 4x4 truck thing in a flat race haha again the weight would kill the 4x4. One thing that sticks in my mind is why all these prisoners help the drivers when they dont actually have any way of being released due to the race outcomes like the drivers do, there's nothing in it for them, and lastly the ending is kind of a anti climax really. All that aside its of course very stupid and a total rip of SO many films but in the end its actually well made and a good pumpin evening out or in, I enjoyed it allot and Statham is really fast becoming the new action hero of the 00's.
Phil Hubbs
Super Reviewer
Death Race Quotes
| | |
| --- | --- |
| Jensen Ames/Frankenstein: | What's that? |
| Gunner: | Most important part of the car. |
| | |
| --- | --- |
| Coach: | Now that's entertainment! |
| Coach: | [after the Dreadnought is destroyed] Now that's entertainment. |
| | |
| --- | --- |
| Coach: | Don't talk to the other drivers. Frank never did. Part of the mystique. Let the mask do the work. |
| | |
| --- | --- |
| Lists: | Travis Colt. Our local superstar. He used to race for Nascar... |
| Gunner: | Yeah, he was good too. |