Death Race 2000
(1975)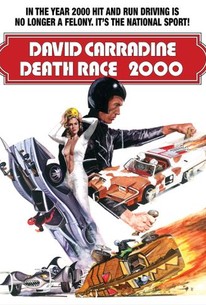 Movie Info
Cult hero Paul Bartel directed this low-budget satire in which America's passion for cars, violence, and sporting events are finally brought together in one convenient package. In the not-so-distant future, the United States has become a totalitarian regime overseen by the charming but sinister Mr. President (Sandy McCallum), who, in order to satisfy the masses' need for entertainment (and to quench their thirst for violence), has created a new national sport -- the Death Race, a nationwide road rally in which the winner is not determined by who finishes first, but by who scores the most points along the way by running over hapless pedestrians. Aspiring champions Machine Gun Joe Viterbo (Sylvester Stallone), Calamity Jane (Mary Woronov), Nero the Hero (Martin Kove), and Matilda the Hun (Roberta Collins) are all looking to take the top honors away from Frankenstein (David Carradine), a half-man/half-machine who has been built to be the best racer on Earth and can outrun and outkill anyone on the circuit. However, not everyone likes the Death Race, and revolutionary leader Thomasina Paine (Harriet Medin) wants to sabotage the event in the name of restoring democracy; her plan is to foil Frankenstein's expected victory by smuggling her daughter Annie (Simone Griffeth) into Frankenstein's race car as his navigator. Featuring David Carradine at the height of his Kung Fu fame (and Sylvester Stallone a year before Rocky), Death Race 2000 was a major drive-in hit in 1975; Bartel and Carradine teamed up for another road race movie, Cannonball, a year later, and a semi-sequel, Death Sport, appeared in 1978. ~ Mark Deming, Rovi
Critic Reviews for Death Race 2000
Audience Reviews for Death Race 2000
½
Mr. President: The drivers are ready, the world is watching. Once more, I give you what you want. "A Cross Country Road Wreck!" Death Race 2000 is another Roger Corman produced film. It has a pretty good cult following and why, I don't really know. It's also another dystopian film that uses sporting events to control the masses and also to spread the love of violence. The dialogue is beyond bad, the acting(besides Carradine is awful), and the movie is just down right stupid. I can see why some people would have fun with it and I did for about 20 minutes, but as it ran on, the fun diminished for me more each second. Luckily the movie only comes in at an hour and nineteen minutes, which allows the film to have easy watchability. As with any Corman produced film you know what he's selling. He's going to rip-off other movies, he's going to show breasts, it's going to be bloody, and it's going to be bad. For some reason though, a lot of people actually think this is a good movie. In Corman standards, it's a lot better than most, but it's also less fun than most in my mind. I wouldn't go as far as to say I hated the movie completely. It had its moments and there were some funny parts. I still didn't like it though.
Melvin White
Super Reviewer
½
This is the pinnacle of Roger Corman's exploitative, bombastic serial films and of them all, this is for sure the most entertaining. Corman made his money capitalizing on making films similar to ones already made or in production, and this film is no different. It doesn't show, but this film found publicity by copying the concept for "Rollerball" and for some reason has gained a cult following unlike its inspiration. The film is set in a dystopian 2000, where racers go transcontinental on a killing spree and rack up points in an almost "Hunger Games" like scenario, except without the emotional tumult but all the reality show gravitas. Though there are some gratuitous uses of blood, gore, and nudity, there's intrinsic value to this film. It spawned its own following leading to a poorly made remake and several sequels. Though it's not a terrible film it is cheaply made, reflected in the principal photography mostly being of the road where much of the film takes place and the same warehouse being used as a set for various hotel rooms. Besides the sets being downright hokey, the acting comes is stilted time and again, as the supporting characters come off as shady and over the top. One of the drivers, in this dystopian setting, is a Nazi, in this world glorified to reflect the changing values of the society, but it does not come into play more than a goofy German accent and a swastika on her helmet. The navigators, who ride with the drivers to tell them the fastest routes, are usually there to enliven the script, but often just become extra bodies to murder along the road. The best part about this film is the lead drivers, who are portrayed by exploitation fixation David Carradine as the complex and murderous Frankenstein, and Sylvester Stallone still acting as an unknown in this film. Still, even with the ripening thanks to old age, this film does not have the amazing script or original concept to be memorable. It does have some twists and turns, especially with Frankenstein's character and his plot against the rest of the drivers, but it's so offhandedly mentioned and not grown enough over time, keeping it relegated to the Corman oeuvre.
Spencer S.
Super Reviewer
½
Death Race 2000 is a fun action film that has a good cast and a very good premise. This is a fun, thrilling action film with hints of dark humor and plenty of blood. Director Peter Bartel crafts a memorable Dystopian Sci Fi actioner that is a must see for genre fans. Death Race is an entertaining flick with a very young Sylvester Stallone (Pre-Rocky fame). He really gives a good performance here, as well as David Carradine. The acting is good for this type of film, and this is not the type of film to take seriously. The film is a nonstop thrill ride, and it delivers some stellar action. If you love Roger Corman, you're sure to enjoy this. This is a fine low-budget B movie that is constantly entertaining and fun. The humor included in its script makes it more enjoyable and over the top, considering that the films plot surrounds a race where the drivers run over pedestrians for points. For such a simplistic film, Death Race 2000 is more exciting than most action films that come out today. Director Peter Bartel succeeds at crafting at crafting a fun film, even if it's absolutely ridiculous. However that's what makes this film a must see. This film delivers a mindless hour and a half of awesome entertainment. If you watch the film, don't expect anything brilliant, expect a good popcorn action film, because that's what Death Race 2000 is. For all it's worth, this is a film that delivers mindless entertainment and succeeds because it's not one of those serious action films. This is a film that includes dark humor in its action, and it's what makes this film good, and very original. If you want to see one of Sylvester Stallone's earliest roles, check this one out; he really brings something great to the screen. Death Race 2000 may be a flawed film, but it delivers some memorable action and thrills.
Death Race 2000 Quotes
There are no approved quotes yet for this movie.