Death Race: Beyond Anarchy
(2018)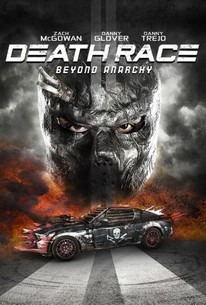 AUDIENCE SCORE
Critic Consensus: No consensus yet.
Death Race: Beyond Anarchy Photos
Movie Info
Danny Trejo returns as the ruthless bookie, Goldberg, in the wildest, bloodiest, Death Race ever. After a failed attack on inmate and legendary driver, Frankenstein, Black Ops specialist Connor Gibson (McGowan) infiltrates a super-maximum federal prison with one goal - enter the immoral and illegal Death Race and take Frankenstein down. Connor enlists the help of Baltimore Bob (Glover) and Lists (Koehler), and unexpectedly falls in love with bartending beauty, Jane (Marzano). Connor will have to fight for more than his life in this brutal world of no guards, no rules, no track, and no fear.
Critic Reviews for Death Race: Beyond Anarchy
All Critics (2) | Fresh (0) | Rotten (2)
Death Race: Beyond Anarchy does deliver its share of down-and-dirty exploitation thrills, although all but hard-core genre fans will find the film's sadistic violence and leering nudity hard to take.
Audience Reviews for Death Race: Beyond Anarchy
½
There is some decent fun to be found in Beyond Anarchy. It's more Escape from LA than it is Death Race 2000, but still an entry in the franchise, which brings me to the core problem of Beyond Anarchy: Is it even really a Death Race movie? The answer is yes, but to go beyond that an ask: Should it have been a Death Race movie? The answer's probably no. As I said to begin with, I had some fun with the movie, but the things that kept bringing it down were its awkward, half-hearted attatchments to the movies in the series that had gone before it. If they had have abandoned those sentiments completely, it probably would have made a better viewing experience, but then, if that had been the case, how could you call it Death Race 4? The opposite approach probably would have worked too, having Beyond Anarchy be an actual sequel that follows Death Race 3 and what came before in a way that makes sense, but then, it couldn't have been even close to the movie that we got. Instead we have Beyond Anarchy's sequel-limbo status, a movie that I don't regret watching, but that also can't really work for people who are fans of the Death Race franchise, or for people who have never even seen a Death Race movie.
Death Race: Beyond Anarchy Quotes
There are no approved quotes yet for this movie.