Da uomo a uomo (Death Rides A Horse) (As Man to Man)
(1967)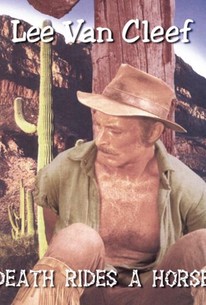 Da uomo a uomo (Death Rides A Horse) (As Man to Man) Photos
Movie Info
Searching for the gang that killed his parents, a young man (John Phillip Law) begins traveling with a fellow gunfighter (Lee VanCleef). Together, they see an increasingly industrialist nation and must revise their antiquated notions of the American West. Death Rides a Horse is an Italian production.
Critic Reviews for Da uomo a uomo (Death Rides A Horse) (As Man to Man)
Audience Reviews for Da uomo a uomo (Death Rides A Horse) (As Man to Man)
½
An underrated, under-hyped spaghetti western featuring Lee Van Cleef in an unusually empathic role. Nice direction and scoring compensates for some shaky camera work.
Randy Tippy
Super Reviewer
½
While not as polished as the films of Leone or Corbucci, it still has much to offer. An intriguing revenge thriller/dysfunctional buddy flick in which Cleef and Law are selfish bastards whose paths happen to cross. Petroni paints a opaque picture of a world where justice is subjective. If Leone is the Godfather of spaghetti westerns, then Petroni is the inspired uncle. He doesn't hit all the right notes but certainly has the lifeblood of the genre running through his veins. Also, Ennio Morricone (who I am sure has scored every Italian western ever) impresses again with an outlandish score that somehow seems to work perfectly for the film. All in all, an underrated and smart italian western.
½
While full of common places in the western genre Death Rides a Horse has an identity and flow of it's own. Luciano Vincenzoni, co-writer of Good, bad, and ugly and for a few dollars more, explores this tale of vengeance giving us well build characters and motivations. Petroni's direction is sharp, straight to the point and well paced. Morricone's score gives the proper background of tragedy and sorrow to this tale. Cleef and Law develope a convincing chemistry as mentor and apprenticce. While Law's acting is limited his boyish naive look and reserved performance gives his character the credibility it needs. This is a young man in search for vengeance, a man who saw his family die in frot of him. He's not a character of big emotions because this is not a film about big things, the story is tasting every single detail, squeezing all the juice it can. It takes it's time, and the results are very rewarding. Just beware of all the R1 lousy DVD editions of the film, terrible presentation and cuts. Seems the movie became public domain. Just get the R2 UK DVD for the proper experience.
Tsubaki Sanjuro
Super Reviewer
Da uomo a uomo (Death Rides A Horse) (As Man to Man) Quotes
There are no approved quotes yet for this movie.