Death Spa
(1987)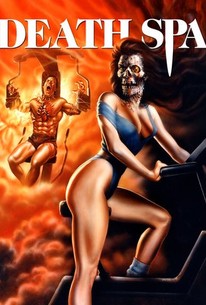 AUDIENCE SCORE
Critic Consensus: No consensus yet.
Movie Info
At a health spa, customers are haunted by the ghost of the owner's wife.
Critic Reviews for Death Spa
There are no critic reviews yet for Death Spa. Keep checking Rotten Tomatoes for updates!
Audience Reviews for Death Spa
½
A movie called Death Spa. I wonder what the thought process was behind naming the movie this way. What image are you hoping to inspire with a name like this? Do you want people to think that's it's a health spa with a mind of its own and it kills people that attend it? Or is it a health spa where, unbeknownst to them, they are murdered by the owner or something? I don't even know why I'm thinking about this. It's all pretty pointless in the long run. I'll be honest, I didn't really know what to expect from this movie, as I knew very little about it and its creation. Though, to be fair, I know very little about most film's creation, but at least one might come close to an accurate guess with, say, movies like Guardians of the Galaxy. As far as the answer as to what the death spa relates to, I guess you could say that it's pretty much the first option I offered, that the spa has a mind of its own and it attacks people. Except it doesn't, since, and this movie might have been ahead of its time here, everything in the spa/gym is controlled by an operating system and it's what's led to it being a relatively successful spa. How, exactly, does one make put all this type of training equipment under the control of one operating system is beyond me, but, somehow, I assume the people behind this movie don't want you asking many questions about the whys and the hows. The first incident in the tanning salon, with Laura being stuck inside and chlorine being pumped inside the room, is incredibly stupid and perplexing. So Laura breaks the door's window and, I think, she proceeds to jump out of it, but the way the editing makes it look it looks more like Laura is on the outside jumping in and, when she lands/falls on the floor, she lands/falls opposite to how she jumped in the window in the first place. I honestly have no fucking clue what happened. Was she supposed to jump out or something? Because that was never made clear and the manager of the spa was the one who found her. Regardless, that was just a little confusing and silly. Fast forward to the next day, the owner of the club, Michael, has been haunted by visions of his wife, who set herself on fire the year before and, obviously, died. There's this stupid line that is repeated several times that Michael's wife, Catherine, was burnt to unrecognizable ashes. Think about that for a second. Unrecognizable ashes. If you can recognize ashes, then you've got some pretty incredibly cognitive abilities. Regardless, the visions coincide with the incidents that seem to be occurring around the spa. A diving board comes loose while a woman is trying to jump off of it. She jumps like 6-7 times on the goddamn board and, honestly, she was kind of asking for it. Olympic divers don't take so damn long to jump off the goddamn board. And then they made such a big deal out of it. Like she lost her life or something. Calm the fuck down here you fuckers, it wasn't that bad. Incidents keep occurring and the spa's members begin dying and the mystery is trying to figure out who's behind this. David, Catherine's brother, works at the computer's controls and he's initially suspected. David and Michael have a bit of a contentious relationship. Michael also starts receiving messages on his computer from his wife, that she misses him and wants him to join her in death. Long story short, somehow, someway, Catherine's ghost took over David's body and she's the one who's been killing the spa's members. David actually starts dressing as his sister, so you think that, at first, it's something like Psycho. But no, there are scenes at the end, where it's clear that it's Catherine that has taken over her brother's body in order to avenge her death by destroying her husband's business and getting him to kill himself...or something. Catherine is a poorly-written villain because we are never told why she's doing what she's doing or why she wants Michael to join him. I guess the idea is that Catherine suspects Michael of cheating on her, but, I don't know, there wasn't any actual confirmation. So you're doing all of this without any conclusive evidence that he WAS cheating. I don't know, Michael seems like a good guy all things considered. So, yea, I felt that was problematic, because the movie seems to be trudging along for no real reason whatsoever. Whatever vague reasons they may have given Catherine were clearly not enough to justify this movie's existence. Even with that, however, this is an 80s movie through and through and it was a complete cheesefest. I'll be honest and I'll say that I didn't think this was a good movie, like, at all. There's some, admittedly, really cool and gory deaths. Like the mirror exploding and, pretty much, completely dismembering the character that was in front of said mirror. One woman gets her hand stuck in a blender and she bleeds more than there are drops of water in the ocean. One character has acid dropped on her from the fire sprinkler system and the effects looked good. Tom, Michael's lawyer, has half of his face impaled by some sort of object. I think another guy's face explodes due to the temperature in the sauna being way too high. One guy's ribs exploded from the inside out. Fletcher, one of the cops, has his throat ripped out by some sort of dead fish that Catherine possesses. I'm sure there's plenty more that I'm forgetting, but at least the deaths are pretty memorable and entertaining. Hell, the entire third act itself, when Catherine is fully unleashed, is actually kind of crazy and very entertaining. Not entertaining enough to make up for the relative badness of everything that came before it, but enough for me to give this the rating that I have. It's obvious that more thought was put into the deaths than in the actual script. This fact cannot be denied in the slightest. But, having said that, I still did have fun watching this movie. I wouldn't say that it's a good movie, not even close, but it was still quite entertaining to watch. This is probably the type of movie that would be even more fun with a group of friends. As it stands, though, as a result of the rating I gave it, I have to say that this is average. If there's any reason to watch this, it's because of the gore and memorable deaths. The rest is kind of meh, but its badness is sure to entertain most of you. That's the kindest thing I can say about this movie.
Jesse Ortega
Super Reviewer
Well another movie straight from the 80's this one centers around a health spa owner who's wife has killed herself and the person running the state of the art controls just happens to be her brother who isn't to happy with the owner considering he blames him for his sisters death now people are being killed off one by one and the owner must find out whats happening before he loses all his clients and his business. i didn't find this movie all that entertaining it had some so so scenes but nothing to recommend here or brag about
Death Spa Quotes
There are no approved quotes yet for this movie.