Death to Smoochy
(2002)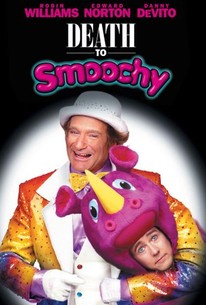 Movie Info
Randolph Smiley has it all--as star of the highest rated kid's show on TV, "Rainbow Randolph" has a penthouse, a Times Square billboard, cars, boats and all the indulgence that celebrity brings. Randolph also has an alcohol problem and a penchant for taking bribes from stage parents. These under-the-table transactions are quite lucrative until the Feds get wise. Busted and instantly reviled, Randolph is a star no more. Scandals don't play well to the under-8 demographic. Enter Sheldon Mopes and his alter ego "Smoochy," a puffy, fuscia rhinoceros. Eager to expand his audience beyond a Brooklyn methadone clinic, Smoochy--with his innocence and unrelenting ethics--is the perfect remedy for what ails the networks. Also, the kids love him! Sheldon soon learns, however, that children's television is a dangerous world, steeped in corruption, back stabbing and violence. Broke and homeless, Randolph doesn't share America's enthusiasm for his replacement--and thusly plots fierce revenge against Smoochy.
News & Interviews for Death to Smoochy
Critic Reviews for Death to Smoochy
Audience Reviews for Death to Smoochy
I loved the black comedy and how so many awful things happen with the involve of a children TV show. But Death to Smoochy have a bad script, what don't hel´p the movie. Rotten.
Lucas Martins
Super Reviewer
He's Big, He's Blue, He's Smoochy... and He's got to DIE! Good fun movie. It's entertaining and the story was smart and witty with lots of oddballs thrown around. Nice cast to go along with Williams and Norton who were very funny. Fired in disgrace, kids show host Randolph Smiley finds himself out on the street, while his replacement Sheldon Mopes, finds himself on the fast track to success with a new hit show as the proud purple rhino Smoochy. But things take a turn for the worst when Sheldon finds out that some of the people that he works with, and some he doesn't know he's working for, are all in it for the money. Meanwhile, Randolph is slowly turning insane with his only thoughts focusing on killing Smoochy and getting back to his life of luxury.
Ohh what a terrible movie. the whole concept is absolutely ludicrus and boring. I found Edward Norton extremly annoying in this movie that i couldnt finish this movie without getting absolutely irritated by this movie.
Film Crazy
Super Reviewer
Death to Smoochy Quotes
| | |
| --- | --- |
| Randolph Smiley AKA 'Rainbow Randolph': | Randolph: Friends come in all sizes/ That's a fact, it's true/ All the colours of rainbow/ From mauve to blue/ The names are different/ The shoes don't match/ Some like to toss/ And others to catch/ One might say grasp while the other says snatch/ Because... friends come in all sizes/ Take it from me/ Golly gee/ Size doesn't matter/ When you want some friendly patter/ From a pal who is true/ And will lift you up when you're blue/ You can count on him/ He can count on you/ It's true/ It's true/ Friends come in all sizes!/ [repeat three times] |
| Randolph Smiley AKA 'Rainbow Randolph': | Friends come in all sizes/ That's a fact, it's true/ All the colours of rainbow/ From mauve to blue/ The names are different/ The shoes don't match/ Some like to toss/ And others to catch/ One might say grasp while the other says snatch/ Because... friends come in all sizes/ Take it from me/ Golly gee/ Size doesn't matter/ When you want some friendly patter/ From a pal who is true/ And will lift you up when you're blue/ You can count on him/ He can count on you/ It's true/ It's true/ Friends come in all sizes!/ [repeat three times] |