Death Valley
(1982)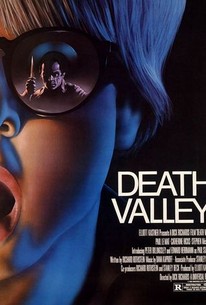 AUDIENCE SCORE
Critic Consensus: No consensus yet.
Movie Info
When little Billy (Peter Billingsley) travels to Arizona to visit his mother (Catherine Hicks), he discovers an RV stuffed with dead bodies. After the local sheriff becomes a victim, it's up to Billy to solve the crime all by himself.
Critic Reviews for Death Valley
All Critics (2) | Fresh (0) | Rotten (2)
Ultimately, Death Valley is a curiosity more interesting for its cast than anything actually on the screen.
Director Dick Richards has fashioned a perfectly serviceable thriller that unfortunately becomes derailed by both an extended -- and ludicrous -- climax as well as an increasingly silly performance by McHattie.
Audience Reviews for Death Valley
In the early 80's, the Slasher craze kicked off due to the feverish demanding of creating new and exciting horror tales of murderous madmen terrorizing innocent people. Death Valley is one of many obscured titles that have been forgotten over the years due to so many other films that have been released in the genre. This is a very good film with an interesting premise. By today's standards it looks dated, nonetheless it's a fun, mindless and eerie Slasher yarn that tends to rely more on building suspense than having a very high body count. The film has its fair share of questionable performances, but what do you expect from a Slasher film? The film is one of those obscured Slashers that deserve to be rediscovered and cherished by horror fans for its sheer originality and entertainment value. While most rely on gruesome kills, Death Valley takes time to create the on-screen tension and atmosphere and in turn it offers something that is quite unique in this subgenre of horror. The biggest problem I had with this film was the casting of Peter Billingsley as Billy; I really felt that he was one of the worst aspects of the film. As an actor, he was painful to watch, and although an integral part of the film, I just felt that character of Billy really weak and more stupid than anything. Other than that, there's some great kills on-screen as well as some effective tension that adds to the enjoyment of this film. If you come across Death Valley, it is worth watching and it among the better forgotten gems of the genre. This film along with Just Before the Dawn is the rare occurrence where the Slasher film tones down on the body count and offers something more for the viewer.
Death Valley Quotes
There are no approved quotes yet for this movie.