Death Warrant
(1990)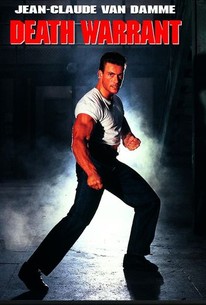 Movie Info
Canadian Mountie Louis Burke (Jean-Claude Van Damme) is assigned to a bizarre case where prison inmates are being murdered. Sent to the jail to investigate while undercover as a prisoner, Burke is hot on the trail until one of his former busts, the Sandman (Patrick Kilpatrick), is transferred to the same prison.
Critic Reviews for Death Warrant
Audience Reviews for Death Warrant
Tim Salmons
Super Reviewer
½
Death Warrant is another typical 80's- early 90's action flick. It's cliche to a fault. The dialog is beyond campy, the action is a bit cheesy, and the plot is fairly predictable. Jean Claude Van Dame is one pretty cool dude. I wish he could've done more work in today's industry. He round house kicks his way through every bad guy in the prison. Very typical JCVD... I can't recommend this... but if you like his work or enjoy martial arts/action movies, then this is entertaining enough.
this old van damme stuff is always good