Death Wish
(2018)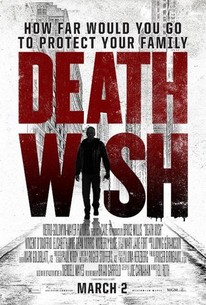 TOMATOMETER
AUDIENCE SCORE
Critic Consensus: Death Wish is little more than a rote retelling that lacks the grit and conviction of the original -- and also suffers from spectacularly bad timing.
Movie Info
Metro-Goldwyn-Mayer Pictures presents director Eli Roth's reimagining of the 1974 revenge thriller Death Wish. Dr. Paul Kersey (Bruce Willis) is a surgeon who only sees the aftermath of his city's violence when it is rushed into his ER - until his wife (Elisabeth Shue) and college-age daughter (Camila Morrone) are viciously attacked in their suburban home. With the police overloaded with crimes, Paul, burning for revenge, hunts his family's assailants to deliver justice. As the anonymous slayings of criminals grabs the media's attention, the city wonders if this deadly avenger is a guardian angel or a grim reaper. Fury and fate collide in the intense action-thriller Death Wish. Paul Kersey becomes a divided person: a man who saves lives, and a man who takes them; a husband and father trying to take care of his family, and a shadowy figure fighting crime; a surgeon extracting bullets from suspects' bodies, and a man seeking justice that detectives are quickly closing in on.
Critic Reviews for Death Wish
Audience Reviews for Death Wish
Eli Roth remakes Death Wish with Bruce Willis. When Dr. Paul Kersey's wife is killed and his daughter's left in a coma after a home invasion Kersey takes matters into his own hands and becomes a vigilante to get the justice that the police can't. Willis gives a fairly middling performance, but the character isn't really written that well. Still, the film does do some clever things with the internet and talk radio to show how the character trains to become a vigilante and gains notoriety. And while the pacing can be kind of slow, it allows time for Kersey to grow frustrated and exhaust other avenues before turning to vigilantism. Rather tame for an Eli Roth film, Death Wish is an entertaining, though pretty run-of-the-mill revenge film that doesn't do anything new or interesting with the material.
Dann Michalski
Super Reviewer
½
"It's not as good as the original" he said, shocking absolutely no one. It's alright though. I don't think that I'll watch this Bruce Willis version ever again, but I actually didn't hate my experience here.
Did we ever need a remake of the 1974 Charles Bronson classic? (itself an adaptation of a novel). The simple story of outright vigilantism which was actually condemned in the original novel but virtually championed and celebrated in the movie adaptation. Not that there's anything wrong with a good revenge story, heck there are many Hollywood movies featuring various action stars that centre on revenge against a specific villain or group. But a tale of urban vigilantism against common criminals? A job best left for the police. A man declaring himself judge jury and executioner? Clearly it drags up moral questions. Clearly its gonna be controversial, but surely that makes it more exciting...no? Now this is an Eli Roth directed movie, so its pretty obvious from the start to not expect anything overly deep (not that the original was either). But that's not to say he didn't have a bloody good go at sticking in some relevant political commentary. Yes believe it or not this isn't a love letter to conservative gun nuts across the American south (not too much anyway). I'm still not too sure why he felt the need to cast Bruce Willis in the lead role though. Surely there are plenty of middle aged blokes you could of cast that don't look quite so fed up with life? No not flippin' Liam Neeson again (good grief!), but this was a good chance to maybe go against cast with someone methinks. The movie itself does hark back to all those adult action thrillers of the 80's and early 90's that would pop up outta nowhere, sometimes good sometimes bad. A basic revenge thriller with plenty of violence, blood, a menacing bunch of villains, and a man of little words anti-hero type. Of course its more grounded urban setting will cause people to reflect more upon our current society; but at the end of the day I really don't see that as anything overly negative. No more so than many other violent action flicks I've seen over the course of my lifetime. As for the plot, whilst surgeon Paul Kersey (Bruce Willis) is talking about going out on a specific night, the car valet overhears and gets their home address from the cars navi system. On said night whilst Paul is working late three men break into their house. Unfortunately Paul's wife and daughter come home and are attacked leaving his wife dead and daughter in a coma. Over time Paul becomes frustrated with the police and their slow progress so he decides to take matters into his own hands. Political Commentary: Paul Kersey buys a gun. Kersey enters a gun store to buy a weapon after getting a minor beating from two street punks/thugs/hoodlums/underrepresented (whatever is politically correct to say these days). The interior is of course like a candy store for anyone interested in guns and killing. The employee behind the counter is a young sexy blonde with big bewbs (to draw in males like moths to a flame). When Kersey starts to talk about permits, licenses, waiting times etc...the young sexy employee merely mocks the idea of it all, casually suggesting special deals for fast access. The entire sequence is literal gun porn both visually and audibly. Deliberately over the top and in your face. Now one could say that Roth is pointing out the real need for gun control here because even though this is a farcical scene, its also dangerously close to reality? On the other hand maybe he's mocking the perceived anti-gun notion of how pro-gun folk look and behave. Then there are the scenes where Kersey is shown learning how to clean a gun, look after it, unload, load, and of course fire a gun...all via the internet. This obviously showcases how easy it can be for anyone to get online and learn how to use a deadly weapon, even to the point of using it proficiently. This harks back to all the You-Tube trouble recently with all kinds of videos being taken down or demonitised for showcasing gun content. Then there is the scene where Kersey is at his wife's funeral with her parents. Driving back to the family home Kersey's father-in-law pulls over and shoots at some poachers on his land. I'm guessing this is an epiphany moment for Kersey when he realises that maybe he should take matters into his own hands. Maybe he should get a gun and start to hunt for his wife's killers himself. Of course this is wrong and he really shouldn't be thinking (or doing) that; but on the other hand you can understand his emotions. The inevitable montage where different people react to the ever increasing vigilante incidents in the city. The internet is alive with grim reaper (the nickname the public christen him) fever as Kersey's hits go viral. Naturally many people in the city are somewhat pleased someone is standing up for the common people, standing up against the rotten element. On the other hand many are fearful, they don't like a lone man handing out his own brand of justice on the streets. Will this increase violence? Will it encourage racial/targeted attacks? What are the police doing about it? But then there are the typical Hollywoodisms that even a movie like this just can't help but include. Kersey becomes a successful vigilante known as the grim reaper because of his all black attire and hoodie. But he wears this every time, even when he goes to a nightclub looking for the main villain. Surely a lone male dressed in all black with a hoodie, going into a club at night, might raise some suspicion (all things considered). Then the duo eventually end up having a shoot out in the bogs where the bad guy misses Kersey at near point blank range...ugh!! Then at the end of all this carnage, with all the club patrons screaming and running for their lives, Kersey strolls out still wearing his black hoodie! Because that doesn't look highly suspicious does it...geez! Alas the gun action and general violence does go somewhat over the top towards the end also. The stories violent encounters start off in a suitably grounded fashion which works well for the most part. But as things progress the gun fights and violence becomes more outlandish with more moments of deus ex machina rendering the realism as defunct. Its also very clear that Roth is unable to keep his gore fetish under control as he injects this into certain scenes which just feels so misplaced (maybe he should of put more effort into Willis' suffering character). Kersey captures one of the main villains at one point and tortures him, but not before he sticks him into this elaborate death trap ala [i]Saw[/i] which ends up crushing his head. A sense of rightful vengeance? I guess so, but it just feels way too over the top because no one would go to those lengths, would also be quite time consuming. Most people would simply get the info and then shoot them. So yeah, is this a controversial movie? No not really. Is this an irresponsible movie? No not really. Was the release bad timing? In America when is good timing?? Is this a bad movie? Actually no it isn't. Is this a good movie? Well its not great but its perfectly acceptable as an action thriller that does exactly what it says on the tin. You know what you're going for here, you know what to expect, and you get it. And in all honesty, apart from the silly gore in places, the silly Hollywoodisms, and the off casting of Willis (who does actually show some decent form here and there), this is generally engaging and OK. Yeah its a tale as old as time but no one complained when Neeson did it about five times on the trot...am I right? Course I am.
Phil Hubbs
Super Reviewer
Death Wish Quotes
There are no approved quotes yet for this movie.