Death Wish 3
(1985)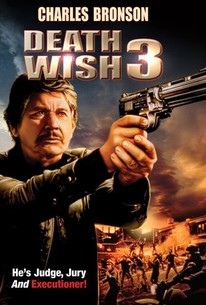 Movie Info
Paul Kersey (Charles Bronson) is at it again in this weak, underscripted continuation of the original Death Wish that started it all. This time, Kersey arrives in New York City after an old buddy was brutally murdered, and encounters a disconnected string of violent actions. The people in his apartment building are regularly mugged, a woman is harassed by a local thug, and the woman Kersey beds down is murdered by incineration. His revenge, as always, is to entrap the perpetrators and then kill them off.
News & Interviews for Death Wish 3
Critic Reviews for Death Wish 3
Audience Reviews for Death Wish 3
Third film is a thrilling action packed underrated Bronson film that is a must see for fans of the genre. I very much loved this film, and I thought that the action scenes were well done, providing some good entertainment. If you loved the first two films, then check this one out. The plot is fairly simple, like the first two but it becomes a more in your face, raw and aggressive actioner that has a very entertaining ending. Charles Bronson still delivers on-screen, and as a third film, Death Wish 3 still manages to be very good. By the end time a series gets to this point, it runs out of effective ideas, though the ideas here are nothing new, director Michael Winner crafts a solid action film that incorporates all the usual elements of a Death Wish film, revenge, vigilantism and top notch action. Don't expect an Oscar winning film with this film; expect a fun, entertaining film that relies on its action to tell its story. If you love these types of films, check this film out. And it's one film that is quite underrated as well. The performances aren't memorable, but what keeps the ball moving are the solid action scenes that make up the film. This would have been a fine to a trilogy of memorable action films, but they just went ahead and made two more films in the series. I feel that along with the second film, Death Wish 3 is the darkest film in the franchise. I loved this film and yes, it has its flaws, but it's nowhere near as bad as what many critics have claimed it to be. If you're a Charles Bronson fan, you'll enjoy this film.
One cannot explain how inconceivably awful this film is.
½
I tend to watch everything what my friend recommend to me. No matter what Genre what Country or what languages, I can even live with subtitles. lol Trouble is when I watch Movies with subtitles I feel like a looney tune.