Death Wish 4: The Crackdown
(1987)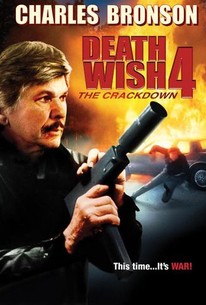 Death Wish 4: The Crackdown Photos
Movie Info
Charles Bronson, weary and comatose, is trotted out again as the cocked crusader Paul Kersey in Death Wish 4: The Crackdown. Director Michael Winner has jumped ship for this installment, replaced by J. Lee Thompson (who has seen better days). Kersey is back in L.A. and dating attractive reporter Karen Sheldon (Kay Lenz). Of course, the clock is ticking, and the gong goes off when Karen's daughter overdoses on crack. Before you can say "kaboom" the drug dealer, along with a large cast of bit players, are blown to bits by the single-minded vigilante. An enterprising publisher whose own daughter has died from a drug overdose hires Kersey to wipe out the city's two rival drug dealers and their legions of flunkies. Kersey has no trouble agreeing, and using the technique limned in Yojimbo, he methodically eliminates gang members, first from one side and then the other, until one gang's paranoia about the other gang causes the two competitors to engage in a major confrontation that impacts both groups.
Critic Reviews for Death Wish 4: The Crackdown
Audience Reviews for Death Wish 4: The Crackdown
I really enjoyed this fourth film in the Death Wish series, and though it really isn't anything new, it still proves that Charles Bronson is one mean vigilante. In this one, Bronson gives his brand of vigilante justice to a bunch of drug dealers. I very much loved the first three films and I thought it was an interesting idea for this film. The idea was quite different, and it worked. Although the film isn't perfect, it still manages to be good fun and is pretty good for a fourth film. Charles Bronson is always a pleasure to watch on-screen. Die-hard fans of the series will enjoy this, and though it's nothing new, this one still delivers what you'd expect. Charles Bronson delivering vigilante justice to the bad guys. Go into this film expecting a mindless action film, and that's what you'll get. The film is very entertaining despite its flaws, and overdone ideas. Bronson still is awesome to watch, and in the end, that's what's important. Although it's never anything memorable like the first three films, Death Wish 4: The Crackdown should appeal to fans of the series and action buffs in general. Death Wish 4 is nothing new, so don't watch expecting something very different, it doesn't have that. Sure, the main character goes against drug dealers now, but the formula is the same. We know what will happen. Despite this, I liked the film, and thought it was a pleasant time waster. If you're in the mood for mindless action, then give this fourth film a try.
Charles Bronson did it again! He pulled off the impossible, He makes Schwarzenegger and Stallone look like wussies. I thought his performance was nothing less than mesmorising and for and old guy to walk softly and carry a big gun that takes alot of talent. the story was so heart warming and Bronson's performance was so powerful that I felt a shockwave of emotion from his stoic appearance. DeathWish 4 is the feel good movie of the eighties and deserves to be treated as respectfully as the third installment of this amazing series. The final action set piece takes place in a roller skating rink and it truely gives the viewer a sense of dark lighting and feeling especially when you see a bunch of clantily scad women and male teens running for their lives as Bronson mows down gangster after gangster in this power packed emotionally driven sequel. By the way, check out Bronson's one liners, they are sure to put chills down your spine. And you gotta love that rocket launcher he uses at the end.
Cassandra Maples
Super Reviewer
½
Some spoilers here ********************************************In this forth installment of the "Death Wish" movies Paul Kersey not only takes out the local street hoods but has him using and manipulating the top organize crime gangs, that are dealing in illegal narcotics in L.A. Kersey get them kill each other off without them ever knowing about it! This whole plan was hatched by very wealthy businessman and "distraught father" Nathen White, John P. Ryan. Seeing that he and Kersey both have something in common, their daughter were crime victims, White supplies Kersey with information and guns and explosives to do in both L.A drug gangs, the Zacharias & Romano, and thus stop the flow on the streets of dangerous and illegal drugs. Kersey reluctantly goes along with White's plan; he already did in the sleaze ball drug dealer JoJo (Hector Mercado) who was responsible for his girlfriend's daughters death. Coming up with a proposal, as well as threatening to go to the police and exposing him, White has Kersey take the bait and methodically wipes out, with their help, the Zacharias and Romono gangs. Paul does it his usual way by blasting shooting and it one case dropping one of Zacharias' men off the balcony of a high-rise building where he landed on the hood his waiting limousine. Kersey to his surprise later finds out that he was actually working for another mob drug kingpin, White the so-called distraught dad! Kersey was doing his dirty work by taking out his, White's, competition. Kersey also does a little cleaning up of the corrupt LAPD by blasting dirty cop Let. Nozaki, (Soon-Tek Oh), who found out who he really was and keeping it quite until he, Let. Nozaki, did the job himself in killing Kersey, them breaking the good news to his boss, not the LA Chief of Police, drug kingpin Eddie Zacharias. After what looked like the "Battle of the Mobsters" the Zacharias and Romono mobs were wiped out in a free-fire fight outside L.A at a deserted oil field. We're treated then to still another bloody shoot-out between vigilante Paul Kersey and the surviving Nathen White Mob, in and out of a local skating rink. In that shootout Kersey's girlfriend newspaper reporter Karen Sheldon (Kay Lenz), gets shot to pieces by White who then Kersey blasted clean out of existence with his M-90 machine gun/rocket launcher. After offing JoJo at the start of the film "Death Wish 4" it seemed that Paul Kersey was ready to go back to his peaceful and serene life as an architect and living with Karen, after burying and mourning her daughter Erica. It''s then that Paul was recruited by a higher power to do, like the saying goes, what's a dirty job but somebody has to do it and nobody is better at doing it than Charles Bronson/Paul Kersey. This film is a step up from the last film. While not great it does have a couple of good plot twists and some soild acting. Its worth checking out for fans of the series.
David Ladd
Super Reviewer
Death Wish 4: The Crackdown Quotes