Deathbed
(2002)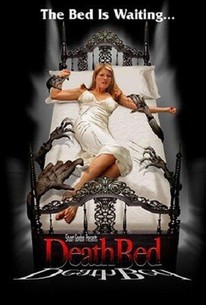 AUDIENCE SCORE
Critic Consensus: No consensus yet.
Movie Info
The psychological film Deathbed concerns a possessed bed that ruins the life of an illustrator. When Karen and her significant other move into a new apartment, they discover an antique bed. Karen adores it and it soon inspires her art. However, a series of disturbing dreams begin to haunt Karen. Eventually she begins to become unhinged and her paranoia overtakes every aspect of her life.
Critic Reviews for Deathbed
All Critics (1) | Fresh (0) | Rotten (1) | DVD (2)
There's not a whole lot that can be said about an 80-minute scare-free horror film that was clearly inspired by the execrable Mirror Mirror trilogy, so I'll try to keep this brief.
Audience Reviews for Deathbed
How do I keep getting to these bizarre horror movies. I mean seriously, i've reviewed a killer Gingerbread Man, a killer tree, and killer who has nothing better to do but to kill teenagers at prom. Like the usual horror movies I tend to review, it has a terrible story-line. It's about a killer bed that devours its users. I can't make it more interesting if I tried. These characters are poorly developed, the typical stupid sex craze teenagers in these movies, and finally the worst death scenes i've ever seen in a movie. There are also some unintentionally hilarious moments like when this old woman reading Oral Lesbian and the scene when these two guys just play poker and shoots the Death Bed instead of getting up leaving. So how did Death Bed come to be, you won't care while watching this movie. Unfortunately when it does give you a explanation it's just bulls**t. Is there any redeeming value to this movie, no, not the even random nudity is even consider. There's also this one scene in the movie where a black woman, who name I can't remember, crawls for her life. I'm not kidding when I say it lasted for like 15 minutes, 15 minutes of nothing but seeing her crawl, and then getting eaten moments later. I'm not done yet, usually i'll be done in four paragraphs, but no this time, I just hate this movie. The acting is horrible if you can even call it acting. There's actually a scene where a guy gets his hands melted off by the Death Bed and reacts like it was just a pinch. The killings are boring to watch and are repetitive. So how do these dumb-asses finally destroy the bed, by burning it. It literally took them an entire movie and like 10 people dying on that bed for these people to realize, lets burn it. Deathbed is the worst, and I mean the worst horror movie I have ever seen. You'll literally almost died from boredom watching this movie. While it may have some hilarious moments, you have to sit through this un-watchable movie and it's just not worth watching this piece of s**t for a few seconds of enjoyments.
Caesar Mendez
Super Reviewer
The twist ending really caught me by surprise
Deathbed Quotes
There are no approved quotes yet for this movie.