Deathsport
(1978)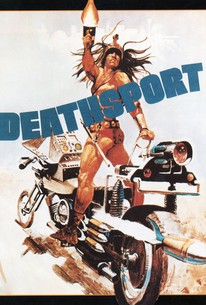 AUDIENCE SCORE
Critic Consensus: No consensus yet.
Movie Info
The rather loose sequel to Death Race 2000 concerns two post-apocalyptic desert guides (David Carradine, Claudia Jennings). Strangely, they ride horses while facing terror from bizarre mutants and biker gangs, who force recruitment into violent gladiator games.
Critic Reviews for Deathsport
Audience Reviews for Deathsport
½
Not quite sure how we got from 1975's Death Race to here, but I'm pretty bummed out that we did. If "Deathworld" was ever going to be a real thing, Deathsport made sure we will never see it.
Death Sport is a fun and entertaining B movie in the vein of Death Race 2000. The only real difference is that people uses motorcycles instead of cars. The story is nothing great, but it manages to be a mindless action Sci Fi film that is purely designed for thrilling the viewer. Roger Corman produces this schlock gem and like his other works, he has the touch to create something fun to watch despite its simplistic concept. The acting is not great, like every other Corman film, but the entertaining value is what keeps you involved. Deathsport is a pleasant treat for Cult film fans, and it does manage to overcome its flaws by being an entertaining Sci Fi action film that relies more on its simple plot than anything else. The result is one of the original B movies that I have seen, and it definitely manages to be a memorable movie that overcomes its imperfections to offer a very entertaining viewing experience to viewers. As far as a Roger Corman film is concerned, Deathsport is a good addition to his filmography of work, and holds a secured spot in his career. The sheer cheesy nature, tongue in cheek aspect of the film is what keeps you involved from start to finish. The film is action packed with so-so acting and directing. If you're looking for a great, mindless B movie to watch, check this one out as it will surely appeal to you. However be warned, due to its pulp value, this may not be the film to watch if you're more of a common viewer. If you love, midnight movies that offers good action, interesting concepts and tongue in cheek dialogue, then by all means seek this one out.
Deathsport Quotes
There are no approved quotes yet for this movie.