Deathtrap
(1982)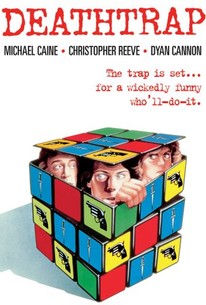 Movie Info
Playwright Sidney Bruhl (Michael Caine) is having a tough time coming up with a successful work, but then an admiring young fan (Christopher Reeve) sends him a masterpiece. With the help of his wife (Dyan Cannon), Sidney plans to kill the man and steal his script.
Critic Reviews for Deathtrap
Audience Reviews for Deathtrap
½
Whoever stars in this banana peel of a whodunnit is only second banana to this script-about-a-script opus, meant to jerk you about like an amusement park ride. The stars are present merely to be targets and frequently look about wondering how much more time they have before the script kills them off. Cute.
Kevin M. Williams
Super Reviewer
A good thriller, Caine is great in these kinds of movies. I wouldn't have thought of casting Reeve, though, but he's not bad, and played his character well. A few of the plot twists are a little predictable if you watch a lot of thrillers, but the ending is very surprising. This movie is a lot of fun, and I recommend watching it.
Not as great as I remembered it but I think that's due to the fact this is about crazy plot twists that came back to me while watching it. Still its a well made thriller/comedy with a great (gay) performance from Reeve, a delightfully unhinged Caine and superb direction and camera work from Lumet...even if it was full screen.
A.D. Villarreal
Super Reviewer
Deathtrap Quotes
There are no approved quotes yet for this movie.