Deathwatch
(2002)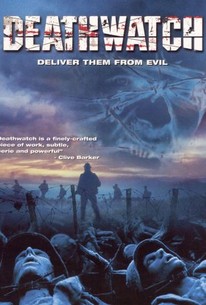 Movie Info
Lost deep in the enemy territory of the western front during World War I, allied soldier Private Charles Shakespeare (Jamie Bell) and eight other British soldiers from the Y Company seek refuge in maze of an abadoned German trench. Winding through the twisting tunnels through piles of corpses and hungry rats, the exhausted soldiers decide to hold thier position and await a rescue team. As the soldiers begin to fall prey to an unseen force, one by one thier numbers dwindle and thier suspicions of one another grow. A young soldier who illegally entered the armed forces at the tender age of sixteen, Private Shakespeare must now summon the courage to face an evil greater than he could ever imagine.
Critic Reviews for Deathwatch
Audience Reviews for Deathwatch
½
[img]http://images.rottentomatoes.com/images/user/icons/icon14.gif[/img]
Directors Cat
Super Reviewer
"What is war if not mud, pestilence and horror?"
Randy Tippy
Super Reviewer
We went in not knowing what the heck to expect, and ended up being impressed. The movie could have seriously kicked ass if they had done things a little differently, but it had a good cast with solid performances, (including Andy Serkis, Jamie Bell, and "Colin-God-of-Sex" from Love, Actually) and Chris was particularly impressed with the attention to WWI detail. The story was decent, but should have been hyped as a psychological thriller a la Jacob's Ladder, rather than straight up horror.
Deathwatch Quotes
There are no approved quotes yet for this movie.