Deceiver
(1998)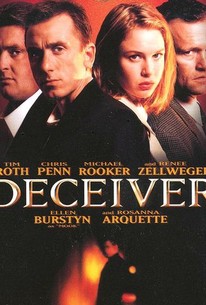 Movie Info
Walter Wayland (Tim Roth) has lead a life that many would envy. The heir to a fortune, he was educated at Princeton and then took over the family textile mill. Why then is he sitting before detectives Kennesaw (Michael Rooker) and Braxton (Chris Penn) taking a polygraph test to prove himself innocent of cutting a streetwalker in half? This stylish psychological thriller from twin writer/directors Jonas and Joshua Pate, explores the answer. Firstly Wayland is not as stable as he seems. Addicted to absinthe and suffering from epilepsy, he is also a compulsive liar who occasionally lapses into strange fits where he becomes zombie-like and violent. He also periodically loses his memory. Despite his obstacles, Wayland is a smart cookie. Knowing that the interrogators disbelieve his innocence, he does a little research to learn their weak points and secrets. Chief among the skeletons in their closet are their ties with Elizabeth (Renee Zellweger), the victim, and with a female mobster named Mook. The result is a mental game of cat-and-mouse between the accused and his accusers that culminates in violence. ~ Sandra Brennan, Rovi
Critic Reviews for Deceiver
Audience Reviews for Deceiver
½
Though Deceiver sometimes confuses being manipulative with being clever, it has enough twists and turns to make it an interesting ride. To say it's smart would be a bit of a stretch, the plot is a bit outlandish, but it is unique enough to give the film a fresh feel. One might become easily frustrated by its non-traditional narrative, but its not meant as such, instead focusing on the characters, and their role in this mind game, almost in the style of a Lynch film. This emphasis on character succeeds largely due to the underrated Tim Roth, who owns almost every scene he's in. 3.5/5 Stars
Jeffrey Meyers
Super Reviewer
Grim, gritty, smart, and full of surprises, Tim Roth plays a very rich, very smart young man being questioned by two detectives who aren't all that they seem on the surface. The detectives (Chris Penn and Michael Rooker) are investigating a gruesome murder for which they have few leads. Tim Roth's character, Wayland, becomes the prime suspect although the evidence is weak. We are never sure who is in charge of the interrogation, as Wayland is very manipulative and the detectives are not squeaky clean, either. This one had the viewer hooked from start to finish.
Mark Abell
Super Reviewer
Tries so hard to be a psychological thriller, then tries to be a Tarantino movie with the backstories, then tries to tie it all up, trips over its own feet, lands on its nose, breaks its nose, cries and throws a tantrum - furious at its own failures.
Marcus Woolcott
Super Reviewer
Deceiver Quotes
There are no approved quotes yet for this movie.