December Boys
(2007)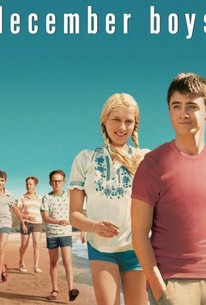 TOMATOMETER
AUDIENCE SCORE
Critic Consensus: December Boys' location and settings are invitingly gorgeous, but the coming-of-age drama that takes place on them is uneventful and far too sentimental.
Movie Info
Prolific television and film director Rod Hardy helms this tale of four young orphans coming of age in 1960s-era Australia. Soon after the quartet leaves the orphanage behind for a seaside holiday, rumors that one of them is about to be adopted lead to steadily rising tensions among the tightly knit group. Adapted from Michael Noonan's popular novel by screenwriter Marc Rosenberg, December Boys is headlined by Harry Potter film series star Daniel Radcliffe.
Critic Reviews for December Boys
Audience Reviews for December Boys
I liked it! But it's pretty lacky with the plot!
Kinda sweet, but ultimately forgettable. Dan is okay in the angry climax, doofy in the love scene, and really uncoordinated when he's running.
Alice Shen
Super Reviewer
Okay, I know what you're thinking 'What the hell is Harry Potter doing in the outback??" But seriously, you guys should give this a chance...I know not everyone would prefer such a film...but I really really really liked it. Yip, JBitBop...another aussie film that gets a shining gold start from moi. ;] Some background, perhaps? This is the story of Maps, Spit, Spark and Misty...four orphans who all happen to have been born in December. Because of this very fact is the basis of their friendship, all of them living in a catholic convent in the outback in about the 60s. They watch as other little boys get happily adopted into families, and silent seethe with jealousy...knowing deep within themselves that it'll never be them smiling with two new parents. Since it is their birthday, and the convent seemed to have set aside some money to take the boys on a holiday to LadyStar Cove. After a long road across the arid scenery, they finally get to the sea where they are welcomed by an older couple named Bandy and Skipper. While there, they swim, splash about, climb over the rocks and simply have a good time. When passing by towards the cove they come across a fair where the 'Fearless Forte' jumps his motorcycle through hoops of fire and death-defying stunts. Being in total awe of this, he discovers that this fearless biker lives just next door to the place they're staying. And meet the couple who are unable to have children, learning that they are looking into adopting one of the four as their own when their holiday draws to a close. Maps, being the oldest, doesn't seem to worry much about being adopted and instead sets his eyes upon a girl named Lucy. While the other three compete to show who would be the most likely candidate for adoption. Things happen that test their friendships and then the feelings of rejection seem to drive a bit of a rift between them. Eventually, these ties become stronger what with the various events that happen in the cove...where they learn what being a December Boy is really about. The scenery in this simply stunned me, it was vibrant and lively...drawing one further into this endearing story of a bamd of orphans. The acting in here was quite decent, as each Boy portrayed what their names meant behind their titles. To be honest, the story sort of reminded me of Les Choristes...so therefore anyone who enjoyed that type of story...would enjoy this as well. Good news avid bookfiends! It's a novel by Michael Noonan...which I have already added to my list as well. :]
Bannan instant enigma- just add water
Super Reviewer
December Boys Quotes
There are no approved quotes yet for this movie.