Decision Before Dawn
(1951)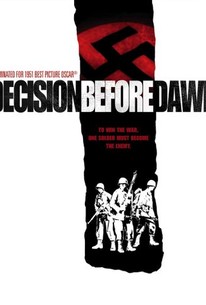 Decision Before Dawn Photos
Movie Info
With the Third Reich disintegrating, several members of the German army are defecting to the Americans and offering their services as spies. US officer Gary Merrill trusts none of these last-minute "converts", but German prisoner Oskar Werner seems to be sincere. Werner insists that by helping the Americans, he is saving Germany from destruction. Merrill sends Werner behind enemy lines for counter-espionage with an American officer (Richard Basehart), who still isn't convinced that the German expatriate means what he says. At several critical junctures, it seems as though Werner had been lying about his mission, but at the last moment he saves Basehart's life at the cost of his own...but was this act of bravery intentional? A thoughtful World War II drama, Decision Before Dawn was filmed on location in Europe. Watch for a young and sickly-looking Klaus Kinski as an overeager defector.
Critic Reviews for Decision Before Dawn
Audience Reviews for Decision Before Dawn
½
I would thought that the appetite for these types of films would have waned once the war ended but here we have another mainly propaganda type film that is mildly entertaining if not deep. Perhaps this was to rally the troops to get ready for Korea.
John Ballantine
Super Reviewer
WWII drama about a group of German P.O.W.'s who were persuaded to spy for the allied war effort. Part docu-drama, part Hollywood propaganda. Entertaining but less than substantial.
Randy Tippy
Super Reviewer
A World War 2 spy movie that was nominated for Best Picture and forgotten immediately thereafter, and for mostly good reasons. In the name of full disclosure I'll admit that I was mostly distracted by other things when I was watching this. Similar to Rio Grande, I found that this had a very long build up and by the time they got to their actual mission I had sort of lost interest and started screwing around on my laptop while watching it.
Decision Before Dawn Quotes
There are no approved quotes yet for this movie.