The Deep
(1977)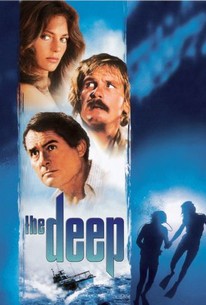 Movie Info
Peter Benchley, who wrote Jaws, also wrote The Deep. Scuba divers David Sanders and Gail Berke (Nick Nolte and Jacqueline Bisset), assisted by Romer Treece (Robert Shaw), discover a sunken treasure off the Bermuda coast. They also find a stash of narcotics. David and Gail spend the rest of the picture avoiding bad guys who stashed the drugs and want the treasure as well.
News & Interviews for The Deep
Critic Reviews for The Deep
Audience Reviews for The Deep
½
Peter Benchley made a name for himself by writing Jaws. He continued the trend by writing The Deep. Then, he decided to step in and adapt that book for this cinematic adaptation. The story follows a young couple on a romantic vacation in the Caribbean who stumble uon a sunken ship while scuba diving that could lead to untold riches...and immense danger. The set up is rather typical for action/adventure/treasure hunt thrillers, but even then, it's pretty enjoyable. That last sentence mostly refers to the book. The movie on the other hand, is a dull mediocre disappointment, I'm not sure why either. Maybe Benchley just didn't care. It's obvious that he probably wasn't going to have this top Jaws, but still, he could have done a lot better. The main thing is that the movie strips away a large amount of character development, condenses the story greatly, yet still has a run time of a little over 2 hours. The performances are okay, and there's a nice cast, including Robert Shaw, Eli Wallach, Nick Nolte, Jacqueline Bisset, and Louis Gossett Jr. but I really had a hard time buying Nolte in the lead, and he doesn't have much chemistry with Bisset. She looks great in a tight, wet , white bikini, though. The film's pacing just seemed really off, and it would probably seem disorienting to those not familiar with the book, and those who've read it, like me, will just be mad at the sloppy adaptation. To the film's credit, some of the music is okay, and the cinematography is really good, and I did like the underwater sequences, but overall, this movie was kinda blah, and the cheesy ending was way too silly, so much so that I was almost considering hating on this even more. I don't really recommend this, but if you want a treasure hunt movie, and don't mind if it's kinda bad, then sure, give this one a watch on a rainy day.
Chris Weber
Super Reviewer
Thriller based on Jaws author Peter Benchley's novel of the same name, The Deep is a good film, but is never anything great. This film takes elements of Jaws and creates something new. If you see the film, you'll understand why. The film is a good adventure that had the potential of being something better. Writer Peter Benchley has written one great novel, Jaws over the course of his writing career, and he would always plagiarize his classic work to some extent. I've never read his book, The Deep, but with what I've seen here, you can clearly see that there are parts that echoes several scenes from Jaws, the book and the film. I think the idea of having the plot of the couple on a romantic couple looking for sunken treasure was good, but also they could have cut out the part of the killer fish. I felt that it was too close to Jaws, and it ruined the film for me a bit. The cast do a great job though, and actor Louis Gossett Jr. delivers here, unlike future film roles such as Iron Eagle. The Deep is a mindless adventure film that could have been better. But considering that Benchley's story returns in some way to Jaws, it's no surprise that this film isn't great either because it lacks originality as well. I'm not saying that this is a bad film, on the contrary, it's a good entertaining film, but I felt it could have been much better, and that Benchley could have written the book without putting references to Jaws. This is still worth watching for a two hour mindless entertaining night of film. The cast however save this film from being a dud as well as Peter Yates effective directing.
Is anything worth the terror of The Deep?
The Deep Quotes
There are no approved quotes yet for this movie.