Deep Valley
(1947)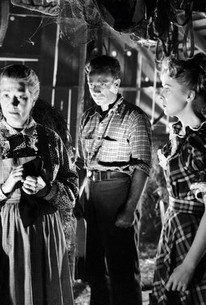 AUDIENCE SCORE
Critic Consensus: No consensus yet.
Movie Info
Just as she had in High Sierra (1941), Ida Lupino enjoys a brief moment of bliss with a man on the run in this highly emotional drama from Warner Bros. She plays Libby, a mountain girl nearly deprived of speech due to her rather hostile environment in general and repressive home life in particular. A true innocent, she falls head-over-heels in love with Barry Burnett (Dane Clark), a member of a prison chain gang building a road through the wilderness. One of those convenient storms endemic to this kind of narrative allows Barry and Libby to escape into the hills but their blissful existence proves of short duration. Deep Valley was filmed on location at Big Sur and Big Bear, CA.
Critic Reviews for Deep Valley
All Critics (3) | Top Critics (1) | Fresh (1) | Rotten (2)
On the whole, Deep Valley is reminiscent of many of the solemn little-theater plays of the early '20s: i.e., it is lost in mawkishness and pseudopoetic feeling masquerading as art.

The film comes to a boil with its very moving conclusion, after a very slow start.
Audience Reviews for Deep Valley
An awkward young woman (Ida Lupino) growing up in an isolated area between estranged parents unexpectedly finds love with a convict who has escaped a coastal road project (Dane Clark). The law is closing in, and to add to the drama, the woman has another suitor in the man who was engineering the effort (Wayne Morris). It's an atmospheric film noir, one where shadows and darkness emphasize a feeling of being trapped in a world with few choices, but ultimately it falls a bit short. I liked seeing Lupino, but her range is limited, and I don't think this was all that fine a performance from her. It's interesting to consider her as being in a prison of her own, and indeed she identifies with Clark for that reason, but the film gets predictable and melodramatic as it plays out. My favorite shot from director Jean Negulesco is at dusk, low angle, with the barn and plants in shadow and the mother (Fay Bainter) approaching. My favorite quote was from the mother, as she's adjusting one of her dresses for her daughter, and says, "All you young girls want everything lower in the front, and tighter in the back. What are you so proud of?" Unfortunately, there are just not enough of these moments to strongly recommend the film. It's not awful, but just average.
Antonius Block
Super Reviewer
Deep Valley Quotes
There are no approved quotes yet for this movie.