Deeply
(2001)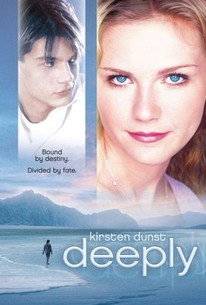 Movie Info
On a remote island in Nova Scotia, teenaged Claire (Julia Brendler) slowly befriends Celia (Lynn Redgrave), an eccentric novelist who is working on a manuscript. The manuscript, which is set a half-century ago, tells the story of Silly (Kirsten Dunst), a young woman who tried to leave the island with the son (Trent Ford) of a WWII naval officer. Deeply cuts between past and present, contrasting the lives of the characters in the manuscript with those of Claire and Celia.
Critic Reviews for Deeply
Audience Reviews for Deeply
Soggy love story of interest only to Dunst diehards. Here she sports some young rugged beauty, enviable long golden hair, and among the worst Canadian accents ever heard. The location of this isolated fishing isle is never specified so, judging from the dialects, for a time I thought it was near Ireland until I began picking out the faces of some familiar Canadian actors. However all the musical cues are distinctly Irish, so who knows? Regardless, Kirsten sounds like she spent some misplaced deep-fried Southern time. Part of the movie takes place in the present where we're supposed to sympathize with a sullen teenage brat (Julia Brendler); part of my brain was whispering "Jump!!" after she climbed in despair to the top of a lighthouse. She meets a crusty old unpublished author (Lynn Redgrave) who recounts her latest work, and that's the story that sluggishly plays out during most of the film. Writer/director Sheri Elwood touches upon a curse that plagues this fishing community every 50 years and hints at a dark secret to lift the curse, but nothing ever comes of the foreshadowing. Much of the rest of the script is similarly underwritten with only a couple characters gaining any foothold, but at least the vital ingredient of the budding romance between Dunst and naval captain's son Trent Ford works.
Doctor Strangeblog
Super Reviewer
Deeply Quotes
There are no approved quotes yet for this movie.