Defendor
(2009)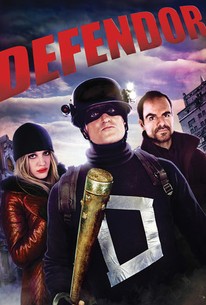 TOMATOMETER
AUDIENCE SCORE
Critic Consensus: Defendor's reach occasionally exceeds its grasp, but this unique take on the superhero genre is held together by Woody Harrelson's solid performance.
Movie Info
Woody Harrelson is construction worker by day, self-made superhero by night in Defendor, a comedy that takes aim at society's infatuation with comic-book mythologies. While the city is awake, Arthur Poppington (Harrelson) holds traffic signs, and is nearly invisible to all who pass; after hours, he assumes his secret identity (complete with homemade costume) and prowls the streets in search of his arch nemesis, "Captain Industry." Along the way, he saves a young prostitute (Kat Dennings) from an abusive undercover cop (Elias Koteas), a move that proves his commitment to fighting for the weak, but also turns him into a real live fugitive from the law.
Critic Reviews for Defendor
Audience Reviews for Defendor
Defendor is a surprising treat for fans of superhero movies. The film has an impressive cast and a good storyline. Some may say that this is similar to Kickass, but it is very different. I personally feel you can't compare the two and both of them do something that the other movie can't. Woody Harrelson is great here, and he delivers a well executed performance that is fun and funny. The rest of the cast are fine as well and each brings something to the film that just makes this such an original and refreshing movie that is worth checking out. I can see why Kickass might be a similar film, but the plotline for this film is very different, and in many ways a bit better. Defendor seems a bit overlooked with the success of Kick Ass and if you've that film, you'll probably enjoy this other take on the superhero genre. Harrelson is great here and he manages to deliver a wonderful, humorous performance that makes the film what it is. Give this film a shot; it is definitely worth your time if you want something that is original and quite different from everything else that we've seen. Defendor is an underrated film that definitely is better than what the critics have said. Give it a shot, you'll surely enjoy it. Films like this are fun to see because they think outside the box, and offer something really good for viewers looking for something interesting to watch. Defendor is a gem of a movie, and one that successfully combines comedy and drama into one memorable movie.
½
Similar, but not the same as Kick-Ass, we get another take on the idea of ordinary and powerless people trying to become superheroes. This is a superhero film yes, to a degree, but it's more or less a character study about a severely troubled, delusional, and slow-witted man who takes up the mantle of a superhero to provide his life with meaning. While there is humor in this film, I wouldn't go so far as to call it a comedy. Possibly a dark (very dark) comedy might be fitting, but I prefer to think of it as a drama with some darkly humorous satirical elements theoughout. It's not a bitter satire like Network, nor is it gut bustingly hilarious. It's emotional, full of depth, heart, and is quite touching. Some of it just happens to bring chuckles now and then. I'm not sure if this is what the cast and crew were going for, but this seems like a film you could use in an intellectual conversation about deconstructing the nature of heros (more specifically superheroes), vigilantes, and the subgenre of this type of film. If any of that doesn't make sense, maybe this will: basically this is, I feel, a treatise on deconstructing notions of heroes and superhero films. Like I said earlier though, this may be valid, but it's first and foremost a character study. And what a character! Woody Harrelson has really been on a roll in the past two years, and this is another performance that is just dynamite. He shines as the lonely, troubled, and delusional Arthur/Defendor. You wanna think he's nuts (he is), and laugh at him, but at the same time, he's oddl;y charming, and compelling, and you really grow to love and care about him. Longtime character actor and That Guy Elias Koteas is terrific, as is Kat Dennings. They both play archetypical characters, but aren't totally run of the mill, same-old same-olds. Oh is also good, but I wish she had a larger role. Given her screentime though, she's really good. This is probably not a film for all tastes. For people who like tons of action and mayhem, you'll be disappointed, for peope who don't like superhero type films, you'll be disappointed. But if you want a sharp, moving, and terrifically well made Canadian Indie about a guy who uses a superhero alter ego to escape his troubles, you'll probably like this. Really, the character could have chosen anything to use as his refuge. That he chooses to be Defendor just adds to his character, and helps the movie provide an interesting take on notions of heroism.
Chris Weber
Super Reviewer
The local police force in Hammertown? They're simply too overwhelmed to care about the recent wave of crime sweeping the city, those that aren't corrupt. And the bad guys, immigrant drug runners, hardly even care themselves, bored beyond tears with the good life, and killing and murdering. The only soul who does seem to care is a homeless guy (Harrelson, very sympathetic) who's got an I.Q. of maybe 80, tops, and may be a "retard", if not an idiot altogether. His only help is a crack ho, shining him for money for drugs ... can anything good emerge from this veritable shitstorm of filth? Yes, and that's the serio-comic message of hope that this work delivers.
Kevin M. Williams
Super Reviewer
Defendor Quotes
There are no approved quotes yet for this movie.