Defiance
(2009)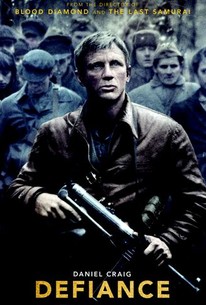 TOMATOMETER
AUDIENCE SCORE
Critic Consensus: Professionally made but artistically uninspired, Ed Zwick's story of Jews surviving WWII in the Belarus forest lacks the emotional punch of the actual history.
Movie Info
Based on an extraordinary true story, "Defiance" is an epic tale of family, honor, vengeance and salvation in World War II. The year is 1941 and the Jews of Eastern Europe are being massacred by the thousands. Managing to escape certain death, three brothers take refuge in the dense surrounding woods they have known since childhood. There they begin their desperate battle against the Nazis. The brothers turn a primitive struggle to survive into something far more consequential--a way to avenge the deaths of their loved ones by saving thousands of others. At first, it is all they can do to stay alive. But, gradually, as whispers of their daring spreads, they begin to attract others--men and women, young and old--willing to risk everything for the sake of even a moment's freedom. Tuvia is a reluctant leader and his decisions are challenged by his brother, Zus who worries that Tuvia's idealistic plans will doom them all. Asael is the youngest--caught between his brothers' fierce rivalry. As a brutal winter descends, they work to create a community, and to keep faith alive when all humanity appears to be lost.
Critic Reviews for Defiance
Audience Reviews for Defiance
½
Defiance is the true story of Jewish brothers Daniel Craig and Liev Schreiber who hid from the Nazis in the Belarussian forest and quickly found themselves with an entire community of fleeing refugees to protect. Edward Zwick has always been fond of telling stories about the triumph of the human spirit and has on occasion been guilty of over-egging the sentimental side of things to get his intended point across. Defiance is no exception, but thanks to some clever writing and a strong central performance by Daniel Craig, this film manages to pull itself back from the brink of schmaltz. When Craig mounted a white steed and gave a very Braveheart speech to his new subjects, I thought "Oh great...here we go again...", but soonafter when the people begin to starve, he promptly pulls out a Luger and puts a bullet in its head, almost as if to say "there's a time and a place for pomp and bluster, but this isn't it"! He shows the conflict between animal instinct and humanity quite nicely, sometimes showing compassion and yes, speech making, but at others dealing with the issues at hand with a ruthless efficiency. Craig and some handsome photography made this film for me and although it is guilty of emotional button pushing, sometimes those are the buttons you want to be pushed; especially when it comes to seeing at least one small victory against the greatest shower of evil bastards ever to walk the Earth...
I wanted to love this movie. The plot, the actors, the setting, all seemed to be the perfect setup for a gripping and dramatic film. Edward Zwick directed this movie and he tends to take sensitive topics and throw in blockbuster action scenes. It almost gave the movie an artificial feeling. Not only that, the follow-up to the ending was dreadfully simplistic with very weak character development. There is one scene noteworthy that really brings out Daniel Craig and Liev Schreiber's acting performance, other than that, this movie lacks.
½
If you were trying to find a way to bash this film you could say that it is about people running and hiding through the same kind of forest for two hours. That would not do the film any justice, of course, even if it is visually somewhat repetitive. The true story of three Belorussian brothers who take it into their own hands to safe as many Jews from the Nazi occupation as possible, by hiding in the woods. Especially the relationship between the reasonable leader Daniel Craig and hot-tempered Liev Schreiber makes the movie interesting even through a couple of slow passages. It also raises interesting questions about the nature of resistance and revenge in its different aspects. The action-packed showdown is really exciting, because those characters have grown on you by then. An enthralling and very entertaining unknown chapter of WW2 history.
Defiance Quotes
| | |
| --- | --- |
| Tuvia Bielski: | We may be hunted like animals, but we will not become animals |
| Tuvia Bielski: | We may be hunted like animals, but we will not become animals. |
| | |
| --- | --- |
| Shimon Haretz: | If you save a life you must take responsibility for it |
| Shimon Haretz: | If you save a life you must take responsibility for it. |
| | |
| --- | --- |
| Tuvia Bielski: | Everyday of freedom is an act of faith |
| Tuvia Bielski: | Everyday of freedom is an act of faith. |
| | |
| --- | --- |
| Shimon Haretz: | I almost lost my faith, but you were sent by God to save us |
| Shimon Haretz: | I almost lost my faith, but you were sent by God to save us. |