The Defiant Ones
(1958)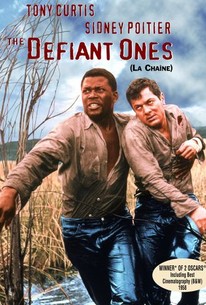 TOMATOMETER
AUDIENCE SCORE
Critic Consensus: An advocacy drama that makes its points without belaboring them, The Defiant Ones relies on its clever concept and brilliant performances to repudiate racial prejudice.
Movie Info
Convicts Tony Curtis and Sidney Poitier escape from a chain gang. Curtis' character, John "Joker" Jackson, hates blacks, while Poitier's character, Noah Cullen, hates whites. However, the men are manacled together, forced to rely on each other to survive. Captured at one point by a lynch-happy mob, the convicts are rescued by Big Sam (Lon Chaney Jr.), himself a former convict. The men are later sheltered by a lonely, love-hungry widow played by Cara Williams, who offers to turn in Cullen if Joker will stay with her. By the time the two men are within hailing distance of a train that might take them to freedom, they have become friends. The script for The Defiant Ones is credited to Harold Jacob Smith and Nathan E. Douglas. The latter was really Nedrick Young, a blacklisted writer, whom producer Stanley Kramer hired knowing full well that Young was using an alias (when "Douglas"' credit appears onscreen, it is superimposed over a close-up of a truck driver -- played by Nedrick Young). Both the script and the photography by Sam Leavitt won Academy Awards. If you look closely, you'll notice that the actor playing Angus is former Little Rascal Carl "Alfalfa" Switzer, making his last screen appearance. The Defiant Ones was remade for TV in 1986, with Robert Urich and Carl Weathers in the leads.
News & Interviews for The Defiant Ones
Critic Reviews for The Defiant Ones
Audience Reviews for The Defiant Ones
½
A morality tale w/o a lot a finesse, this late 50's era story literally chains together two opposing views and lets them play out against each other while on the run from "The Man". The saving grace is the performance of the leads who lend some small humanity and believability to the rote and didactic "educational" format, which often lacks even continuity. Still, a historical American experience on film.
Kevin M. Williams
Super Reviewer
½
Everyone should have a life-changing event like this. Consider a pre-civil rights era when blacks and whites were supposed to hate each other. This pair are shackled to each other for days and have no choice but to depend on each other for either one of you to survive. It is worth seeing.
½
Amazing black and white cinematography.
Ken Stachnik
Super Reviewer
The Defiant Ones Quotes
There are no approved quotes yet for this movie.