Delhi Belly
(2011)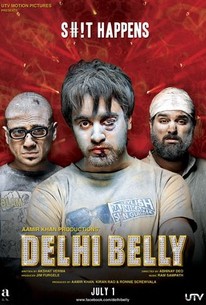 Movie Info
Tashi, Arup and Nitin - flatmates, buddies and partners in crime. Tashi is to get married in a month but still doesn't know if his fiancé is THE ONE! Arup can't make up his mind who he wants to kill first - his girlfriend who has just dumped him or his stupid, annoying boss whose idea of creativity is sketching a smiling banana! And Nitin is about to discover that eating delicious tandoori chicken off a street vendor is going to give him the worst case of Delhi Belly he's ever known! Three regular blokes, living the regular life EXCEPT for one small detail - they are on the hit list of one of the world's deadliest crime syndicates. Will they be able to get away before the 's#!t hits the roof' and it comes crashing down? --(c) UTV
Critic Reviews for Delhi Belly
Audience Reviews for Delhi Belly
I thought this was quite an enjoyable movie and, again, another positive Bollywood experience, that's now THREE. There's two musical numbers and one is a character day dreaming (and it's actually pretty damn funny) and the other one, while during the credits, did nothing for me. So, really, no problems on that end. The problems I have is that, and this is speculation on my front, the feeling that you're supposed to gain from this movie is that these characters went on this insane and unforgettable journey. Sort of like The Hangover. But a lot of the situations, to me, felt completely contrived and forced. They were presented as being insane but it never felt like it and that's really the main problem of the movie. It should've felt far more natural than it did. And another thing, 85% of the dialogue is in English, despite taking place in a foreign country and, normally, I'd have a problem with that but in this movie it wasn't bad at all. I saw a movie that took place in a small Romanian (Strigoi) and EVERYBODY spoke English and it really hurt that movie because of it. That movie came across as minor league because none of the actors could act in English. I didn't blame the actors at all for that, since the movie was British/Romania co-production, but it made the movie look worse than it probably would've been had it been in Romanian. In this movie at LEAST they found people that could speak the language and still be decent actors, despite this movie not depending on it. And I mean it's really harder for me to believe that everyone in a SMALL ROMANIAN VILLAGE (both young and old, the old being far more perplexing than anything else) speaks English than it is for the 4 main characters to speak the language when everyone else around them speaks Hindi. The latter is definitely far easier for me to believe than the former. So anyway yea a movie that tries too hard at times but it's still an entertaining film.
Jesse Ortega
Super Reviewer
½
Critically acclaimed and publicly well received in general, I couldn't resist myself anymore from giving it a go despite having specific reservations against it. At that time I had no idea whatsoever that I was entering the territory of laugh riot. And fortunately, except for a few minor collisions, I was not only able to get back safe from this territory but even had a fun ride all along it. It was in the reins of Jaane Bhi Do Yaaro (IMO with which a few or more would understandably differ) with a modern touch to it. It'd have been a great family film had it not been so full of slangs and cusses. But I guess the makers had no confusions w.r.t. the target audience. Imran was okay as were the other two actors playing his room partners. Shenaz too does well in whatever little scope she gets. Vijay Raaz is the show stopper here. The actor playing his sidekick is also brilliant. I don't understand (and don't care to) how the role of Sunita (unworthily) went to Poorna Jagannathan (-1 for that alone). The best performer here is the script which, of course, isn't flawless either. Besides few moments here and there, the pre-climax was not up to the mark. The events leading to the climax could have been better built up. All in all, Delhi Belly turned out to be an unexpectedly comedy flick which I was too hesitant to even go for. Surely recommended.
familiar stranger
Super Reviewer
Disgustingly funny. One flaw that caught my attention (although I'm not sure whether it is or not), in the end when Tashi and his friends went back to hotel to bring back his girlfriend, while shooting, when did Nitin (the bearded guy) went to washroom? His expression was not expected to be like that. There might be more like this but this one was quite noticeable to me. It's an adult comedy movie so better not to watch it with your family. The dialogues are really *beep*. Also one thing I noticed about this movie, it has been made in Hollywood style flawlessly. I always knew Bollywood copies Hollywood but this have been copied perfectly.
Dead Angel
Super Reviewer
Delhi Belly Quotes
| | |
| --- | --- |
| Nitin: | did they shave your end before hanging you! |
| Nitin: | Did they shave your head before hanging you? |
| | |
| --- | --- |
| Nitin: | That's Leena. She's a whore. |
| Arup: | No. I thought she was sucking his dick because she's really outgoing - but a whore, you say? |
| | |
| --- | --- |
| Arup: | Yeh Shaadi Nehi Ho Sakhti. This girl has given me blowjob. |
| Arup: | This girl has given me blowjob. |
| Arup: | This girl has given me a blowjob. |
| | |
| --- | --- |
| Nitin: | This is one ugly car, this is what you get when a donkey humps an auto rickshaw |
| Nitin: | This is one ugly car. This is what you get when a donkey humps an auto rickshaw. |