Delicatessen
(1992)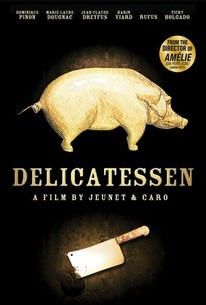 TOMATOMETER
AUDIENCE SCORE
Critic Consensus: Director Jean-Pierre Jeunet deftly combines horror, sci-fi, and humor in Delicatessen, a morbid comedy set in a visually ravishing futuristic dystopia.
Movie Info
A post-apocalyptic future becomes the setting for pitch black humor in this visually intricate French comedy. The action takes place within a single apartment complex, which is owned by the same man that operates the downstairs butcher shop. It's a particularly popular place to live, thanks to the butcher's uncanny ability to find excellent cuts of meat despite the horrible living conditions outside. The newest building superintendent, a former circus clown, thinks he has found an ideal living situation. All that changes, however, when he discovers the true source of the butcher's meat, and that he may be the next main course. This dark tale is played out in a brilliantly designed, glorious surreal alternate world reminiscent of the works of director Terry Gilliam, who co-presented the film's American release. Like Gilliam, co-directors Jean-Pierre Jeunet and Marc Caro hail from an animation background, and have a fondness for extravagant visuals, absurdist plot twists, and a sense of humor that combines sharp satire with broad slapstick and gross-out imagery. This mixture may displease the weak of stomach, but those attuned to the film's sensibility will be delighted by the obvious technical virtuosity and wicked sense of humor.
Critic Reviews for Delicatessen
Audience Reviews for Delicatessen
A former clown lives in a tenement that features several quirky characters including a cannibalistic butcher. Super Reviewer Alice Shen contends that Jean-Pierre Jeunet had one good idea, Amelie. I disagree only because I love A Very Long Engagement and liked Micmacs, but her view that his work descends into a convoluted mess when he is unable to seamlessly entwine his characters and plotlines is well-taken in the case of Delicatessen. The underground army that plays a seminal role in the film's conclusion isn't introduced until the second act, and even then, I thought they were just passing through, on their way to another movie. The quirky "sex symphony" and the quirkier frog man weren't interesting or amusing; they were just Jeunet trying too hard. I also think that Dominque Pinon, winner of the Most Interesting-Looking Face award, is more suitable to supporting roles, where he can provide the perfect balance to the film's straight man, as he does in A Very Long Engagement. Overall, this is not Jeunet's best work, but it's better than most films about cannibalism.
Jim Hunter
Super Reviewer
This is exactly like Brazil. That is to say, the movies look really really similar, in thier cluttered sets, quirky characters and post-apocalyptic yet casual world. I liked it as much as I liked Brazil. It was fun, kinda cool, but not really my cup of tea. It kind of bothered me the way it couldn't quite pick what genre it was supposed to be. I think it wanted to be a comedy.
Emily Armstrong
Super Reviewer
05/01/2011 (DVD) Quite good! An unusual setting with unusual characters which made this an unusually good movie. It is a flick with deception as it seemed to be a friendly comedy, but it's really smothered with darkness! Strangely, there's romance and it's the cutest kind that lightens up the rather darkly theme, very enjoyable to sit through. It's funny which was weird for me cause its just so heavy with evilness, I was so concerned and yet I couldn't stop laughing. Its so playful and yet so evil, what a stir. Definitely a strange one for me but a very manageable sitting. I must say that I liked this a little more than "The City of Lost Children" but anyway it's probably not one for everybody, but it was a good watch for me. I do hope to find more like this, I'm enjoying the seriously weird and strange films that exist, sweet.
EightThirty .
Super Reviewer
Delicatessen Quotes
| | |
| --- | --- |
| Louison: | Nobody is entirely evil: it's that circumstances that make them evil, or they don't know they are doing evil. |