Delirium
(1972)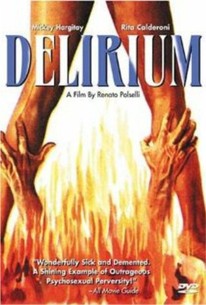 AUDIENCE SCORE
Critic Consensus: No consensus yet.
Movie Info
Italian filmmaker Renato Polselli (aka Ralph Brown) wrote and directed this wonderfully sick and demented giallo thriller, a shining example of the sort of outrageous psychosexual perversity for which the genre has become cherished by cult enthusiasts. Former Mr. Universe Mickey Hargitay was already a sleaze favorite for his turn as Il Boio Scarlatto and his disingenuously tearful tour of his late wife's estate in The Wild, Wild World of Jayne Mansfield. Hargitay only solidifies that image here as Prof. Herbert Lyutak, a perverse sex maniac employed as a criminal psychologist. Lyutak is first seen giving a young woman a ride in his car, eventually attacking her and chasing her through the woods to a creek, where he beats her to death. Lyutak's wife (Rita Calderoni) finds his bloody shirt, but because there is another murder while the demented shrink is consulting the police, he is cleared. Working with the authorities, Lyutak has a family friend (Katia Kardinali) pose as a prostitute to catch the killer, but he simply murders another hooker not far away. The bodies continue piling up, with so many alibis and confusing contradictions that it soon becomes apparent the killings are the work of several hands. Polselli keeps the sleaze factor high throughout, notably in some psychedelic nightmare sequences featuring Lyutak's fantasies of torturing nude women in his basement and in the murder of Kardinali, which features some fairly graphic whipping and kinky sexual allusions. There's also lesbianism, strangulation, and an interesting synth-rock score by Gianfranco Reverberi to keep viewers interested, and the ultimate conclusion is -- in keeping with the title -- a delirious, bloody battle between three psychopaths in a cellar. That's only in the original version, however, because the American re-edit removed most of the sleaze, changed the setting from England to the United States, and added two extra murders and a police shootout, not to mention some dubious Vietnam flashbacks. The ultimate entertainment value to genre enthusiasts, therefore, is highly dependent on which version they see, as the extensive changes reduce a wild, flamboyant shocker to just another dull mystery. Gaetano Cimarosa and Stefano Oppedisano co-star.
Critic Reviews for Delirium
There are no critic reviews yet for Delirium. Keep checking Rotten Tomatoes for updates!
Audience Reviews for Delirium
½
If there's one thing that I can say about Delirium is that it's completely batshit. The plot goes in a hundred different directions and you're never quite sure exactly what is going on. By the time you get to the end you think you've got it all figured out but then it just keeps piling different information on you until your brain hurts. And to those who might be wondering, I watched the International Uncut version just so I got all of the information. The problem is that maybe it was too much. The movie definitely isn't boring, but as a narrative it's terrible. It's so over-the-top and silly at times that it's difficult to take it seriously, which is a shame because serious is the tone it's going for. If you think you can handle ninety minutes of cranium-bending story with gratuitous nudity and random violence then be my guest.
Tim Salmons
Super Reviewer
Delirium Quotes
There are no approved quotes yet for this movie.