Deliver Us from Evil
(2006)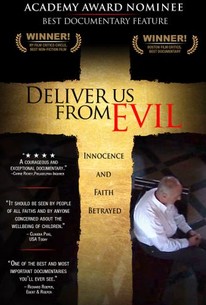 TOMATOMETER
AUDIENCE SCORE
Critic Consensus: Deliver Us From Evil is a superb documentary and a searing look at an institution protecting its leaders at the expense of its followers. A profoundly disturbing chronicle of a wolf in sheep's clothing, the film builds a clear-eyed case against pedophile priest Oliver O'Grady, and the Catholic bureaucracy that protected him. The recollections of O'Grady's victims are nothing short of shocking and heartbreaking.
Deliver Us from Evil Photos
Movie Info
Moving from one parish to another in Northern California during the 1970s, Father Oliver O'Grady quickly won each congregation's trust and respect. Unbeknownst to them, O'Grady was a dangerously active pedophile that Church hierarchy, aware of his predilection, had harbored for more than 30 years, allowing him to abuse countless children.
News & Interviews for Deliver Us from Evil
Critic Reviews for Deliver Us from Evil
Audience Reviews for Deliver Us from Evil
Deliver Us From Evil is a necessary documentary that needed to be made. The film takes a look at Father O'Grady, a priest who during the 1970's and early 1980's raped dozens of children. He was moved to different parishes in an attempt by the church to conceal his crimes. O'Grady is a dangerous man, one that is the lowest form of filth on this earth. Director Amy Berg crafts a solid, gripping and provoking documentary. This is a hard film to watch and Amy Berg does a great job at uncovering this dark subject and it's a film that should be seen because of the fact priests are supposed to be trusted, and many do trusts them, and O'Grady has used his powers as a priest to get involved with his victims. This is hard to watch and there's plenty of graphic discussion about the crimes themselves, and it's not a film for everyone due to its subject. The film is heart wrenching as we see families get their lives ruined by someone they trusted. Deliver Us From Evil is a well made documentary and it is eye opening, with interviews and firsthand accounts about the crimes. In terms of a documentary, this is a must see film. Amy Berg has crafted a fine film that exposes the lengths of the church to hide the truth. With that said, while viewing this film, I can see why many people don't trust priests. The church is not what it all seems, and Amy Berg makes a good point with this well made documentary that you won't soon forget. Hard, but necessary viewing.
If whatever is shown in this film is true, it's weird to know that churches are better off serving the devils than helping the victims. 'Confessions Of A Dangerous Mind' would have been appropriate for this flick.
familiar stranger
Super Reviewer
A powerful and thought provoking piece of work that tackles the hypocrisy of not religion, but organised religion. It is disturbing and will stay with any viewer long after they have seen it. The films real success comes in Oliver O'Grady who talks about his crimes in such a matter of fact tone, that it is clear to see he in no way is capable of understanding the repercussions of his actions.The protection he has been offered has been to protect the Catholic Church and not it's followers. The victims and their families testimonies are truly emotional. It is informative, fascinating and very bleak. A rare film that simply had to be made.
Luke Baldock
Super Reviewer
Deliver Us from Evil Quotes
There are no approved quotes yet for this movie.