Delta Heat
(1992)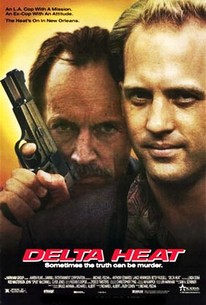 AUDIENCE SCORE
Critic Consensus: No consensus yet.
Movie Info
A Los Angeles detective is sent to New Orleans to trace the origin of a new, heavily addictive killer drug. When he is killed in a bizarre voodoo murder, his partner (Anthony Edwards) is sent to investigate. While there, he teams up with an ex-cop (Lance Henriksen), one of the few people able to guide him through the swamps of the Louisiana Delta to the source of both the drug and the killing.
Critic Reviews for Delta Heat
There are no critic reviews yet for Delta Heat. Keep checking Rotten Tomatoes for updates!
Audience Reviews for Delta Heat
½
Missed this classic cop duo action thriller, I think everyone did. Even though it was made in 1992 you would think it was an 80's film looking at the state of Anthony Edwards and his wardrobe. His hair cut is really something to been seen, on top of that the earring that he sports is truly unthinkable. I really can't think of many less likely or worthy to be cast in a cop buddy action flick than Edwards, the man is not the right type for action films. I still ponder how he got cast in 'Top Gun'. His partner in this is Lance Henriksen who as usual is on top form hamming it up something chronic as a Southern swamp dwelling Dixie with an alligator obsession (he lost his hand to one). The film is clearly suppose to be along the same lines as 'Beverly Hills Cops'. There is the obligatory smart ass humour throughout which isn't really that funny, chirpy little tunes of the South to give that quirky not too serious feeling and pretty much everything else you might expect from this type of film. Odd thing is there isn't that much action in the film. An original double team in the form of a slick Hollywood cop who dresses like an 80's reject and scruffy looking 'Crocodile Dundee' type from down South. I give the film that but otherwise its pretty poor stuff with not much to recommend unless you really love Henriksen and his characters (his second film based in the Bayous of New Orleans).
Phil Hubbs
Super Reviewer
Delta Heat Quotes
There are no approved quotes yet for this movie.