Demetrius and the Gladiators
(1954)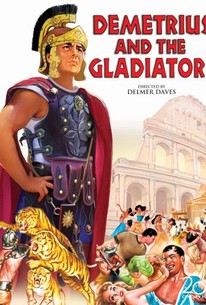 Demetrius and the Gladiators Photos
Movie Info
Demetrius and the Gladiators was the sequel to The Robe, and though they were released several months apart, the films were shot at the same time. Based on characters originally conceived by Lloyd C. Douglas, the film stars Victor Mature as the title character, an ex-slave who embraced Christianity after being present at the Crucifixion. Thrown in jail for defending an elderly merchant from a sadistic Roman legionnaire, Demetrius is forced to attend gladiator school and fight in the arena for the amusement of the mad, debauched emperor Caligula (Jay Robinson, likewise repeating his performance in The Robe). The well-proportioned Demetrius attracts the attention of Messalina (Susan Hayward), the nymphomaniac wife of Caligula's would-be successor Claudius (Barry Jones). Briefly losing faith in Christ, Demetrius is saved from himself by the apostle Peter (Michael Rennie). Because of contractual complications, Demetrius and the Gladiators was released to television seven years before The Robe. ~ Hal Erickson, Rovi
Critic Reviews for Demetrius and the Gladiators
Audience Reviews for Demetrius and the Gladiators
½
This sequel to "The Robe" follows a slave (Victor Mature) who happens to attend the crucifixion of Christ and is converted, but then must navigate the shiny but filthy corruption that is Rome under Caligula. A big production with lots of celebrity face power, this is actually better than "The Robe", without its air of serious pontification. And the gladiatorial combat completely satisfies. Susan Hayward exemplifies corruption quite well, seductively, and Jay Robinson was born to play Caligula.
Kevin M. Williams
Super Reviewer
½
I'm more or less sure that I saw this, and I'm more or less sure that I wouldn't again.
Daniel Perry
Super Reviewer
Demetrius and the Gladiators Quotes
There are no approved quotes yet for this movie.