Demolition Man
(1993)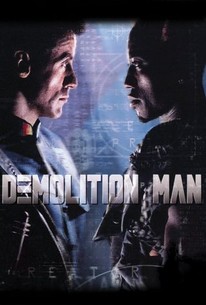 TOMATOMETER
AUDIENCE SCORE
Critic Consensus: A better-than-average sci-fi shoot-em-up with a satirical undercurrent, Demolition Man is bolstered by strong performances by Sylvester Stallone, Wesley Snipes, and Sandra Bullock.
Movie Info
The plot of this action film begins in 1996, with Los Angeles in a violence-crazed conflagration. One of the LAPD's most notorious cops, John Spartan (Sylvester Stallone), known as "the demolition man," is in hot pursuit of blonde-haired psychopath Simon Phoenix (Wesley Snipes), who is so nasty he even kills sometimes just because he feels cranky. John captures Simon, but not before Simon kills innocent hostages. John is blamed for the deaths of the hostages, and both he and Simon are cryogenically frozen to remove their brand of ultra-violence from a society that is simply just too violent. The film shifts to the future world of 2032, where Los Angeles has become a megalopolis called San Angeles. There is no poverty, Arnold Schwarzenegger was (at one time) president of the United States, and Taco Bell is the sole survivor of the Franchise Wars. Into this peaceful and bland society, Simon is summarily defrosted by reigning benevolent dictator Dr. Cocteau (Nigel Hawthorne) to have Simon murder Edgar Friendly (Denis Leary), the leader of a group of underground rebels. But Cocteau bites off more than he can chew when the melted-down Simon proceeds to go on a murder-and-looting spree. Reluctantly, Cocteau defrosts John to hunt down his old adversary. As John adjusts to self-driving cars and having sex wearing helmets, he pairs up with Lenina Huxley (Sandra Bullock), a bored cop with a nostalgic fascination for 20th-century culture. ~ Paul Brenner, Rovi
Critic Reviews for Demolition Man
Audience Reviews for Demolition Man
EightThirty .
Super Reviewer
really fun if not silly action flick.
Zachary Lamb: Simon Phoenix is an old fashioned criminal. We need an old fashioned cop.  "The future isn't big enough for the both of them." Demolition Man is one of those weird movies that I can't decide whether I like or not. Parts at me shaking my head in disgust, mostly when the characters talked, but in the end I wasn't angry with it at all. I, for the most part, enjoyed myself. The film is highly entertaining and has some cool ideas. It also has some extremely stupid and silly ideas too. Like the three seashells; I know it is supposed to be humorous, but really?  The action stars, Sylvester Stallone and Wesley Snipes are a lot of fun to watch. When they are in their action sequences, they are at their best. When they talk, they are at their worst, but it is still somewhat fun because of how ridiculous they sound. Stallone plays a cop named Spartan, who has the nickname Demolition Man. The nickname comes from the cliche idea that he doesn't play by the rules. He destroys whatever he needs to. He has been trying to catch a ruthless killer, Phoenix, for some time now. When he finally does catch him, things still end up going wrong and he lands himself in prison too. Now prison isn't what we know it to be. Him and Phoenix are frozen in order to serve their sentence. While they are frozen, they are also give rehab. Not really sure how that works, but we'll go with it. Phoenix escapes custody during a parole hearing and starts going nuts on a now crime-less country thirty some years later. In this new country you can't curse or eat junk food. Anything unhealthy is illegal. In order to catch the madman, they unfreeze Spartan also. So from there it is a cat and mouse game. As much as I would like to describe just how bad this movie is, I can't. It was just too entertaining to talk badly about. Another saving grace for the film is a young Sandra Bullock. Damn was she hot back in the 90's. When she was asking Spartan if he wanted to have sex, I was yelling at the screen, "Yes!" She does give a pretty fun, if at times hard to watch, performance also. She plays a bored cop that loves old action movies and really wants to see some action.  I recommend watching Demolition Man if you can tolerate stupidness in the midst of great action. It doesn't reach the stupidity level of a movie like Cobra, which is a plus. 
Melvin White
Super Reviewer
Demolition Man Quotes
| | |
| --- | --- |
| Sergeant John Spartan: | Phoenix! |
| | |
| --- | --- |
| Simon Phoenix: | Blast from the past! |
| Sergeant John Spartan: | You should have stayed there Phoenix! |
| | |
| --- | --- |
| Simon Phoenix: | Greetings, whats your bogle? |
| | |
| --- | --- |
| Edgar Friendly: | God, I love to hate this place! |
| Simon Phoenix: | Play ball! |
| Sergeant John Spartan: | Somebody put me back in the fridge. |