Demonic Toys 2
(2009)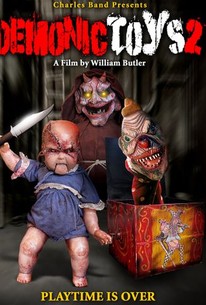 AUDIENCE SCORE
Critic Consensus: No consensus yet.
Movie Info
The Demonic Toys are back, and this time they're not playing around in this bloody fun B-movie sequel. In Hideous!, Dr. Lorca (Michael Citrini) traveled the globe in search of the most grotesque oddities imaginable. Now he's back, and his collection is still growing. When Dr. Lorca hears rumors of an Italian castle that houses a mysterious living puppet, he sets out to investigate with his assistant Caitlin (Alli Kinzel) and her boyfriend David (Lane Compton). Little does the determined collector realize that the puppet is under the spell of Lilith (Selena Luna), a powerful demon disguised as a mortal. Later, when the puppet succeeds in resurrecting the Demonic Toys, all hell breaks loose.
Critic Reviews for Demonic Toys 2
Audience Reviews for Demonic Toys 2
Seeing as this was made recently it makes it hard to accept the crapness involved as these type of films tend to work better knowing they were made back in the 80/90's. But despite that its still a reasonable horror with fun doll mania. The plot is pretty much the same as all the killer doll films previously accept with a different setting. The effects are slightly better or a little more technically advanced than the rest. The dolls still look good but we're missing 'Mr Static' and 'Grizzly' and instead have 'Divoletto' which is a devil looking doll, nice design and very 'Puppet Master-esque' but he doesn't do much. Nice setting and the usual kills accompanied with some rather poor acting, but we all know what we're getting here. Not as good or classic as the first but its still solid if you have a doll fetish.
Phil Hubbs
Super Reviewer
Demonic Toys 2 Quotes
There are no approved quotes yet for this movie.