Demonlover
(2003)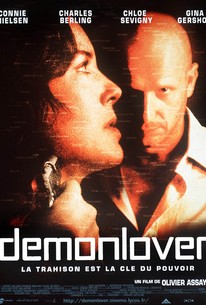 Movie Info
A tale of corporate mergers, Japanese porn, and the Internet, in which a company hires an executive to infiltrate a rival company and sabotage it from within.
Critic Reviews for Demonlover
Audience Reviews for Demonlover
½
I watched this at the behest of Jhon E. Sorry it took so long. It took me a while to find. One impression that I got while watching this film is that it is that it tries to be, and thinks that it is, smarter than it really is and that is one of the big reasons that this film failed to impress me. Acting/Characters: There weren't any characters in the film that I liked. No one that I really cared about. They could have all been killed in the end and I don't think I would have cared because there was no one that I was rooting for. That's never good. The acting was sub-par in its best moments of which there were few. The film never gave us any reason to like one character over the other. 3/10 Plot: It started out okay and it looked like it could be interesting at first, but then it went downhill from there. The plot got erratic and I just stopped caring. It had an interesting premise at first. Kind of. The premise got weaker as the film went on. It was just kinda pathetic all around. I didn't fully understand the ending. well, I did actually, but I didn't understand fully why or how the plot got there. It was a weak plot that failed on most points. A decent beginning though. 3.5/10 Screenplay: It switched from French to English and in some places it was Japanese but it was mostly French. I never cared about what they were all saying. I didn't really understand how it all dealt with the plot half of the time. It was weak. 2.5/10 Likableness: Do not watch this film. Jhon E. I'm sorry but I cannot suggest it to anyone. I certainly will avoid watching it again at all costs. There was nothing to like about it. Nothing that kept my interest. The plot was erratic and uninteresting throughout most of the film. It had its rare moments where I was interested but none really that I enjoyed enough to give this film much grace. 3/10 Final Score: 12/40 30% (S) I couldn't find any trivia for this one. sad day.
Lord Naseby
Super Reviewer
½
As the film begins, a few executives of a French conglomerate called VolfGroup go to Japan and arrange to buy out TokyoAnimé, whose new 3-D manga porn films are going to wipe out all competition. TokyoAnimé needs the French money to develop their new 3-D technology. Diane (Connie Nielson) drugs a rival in the company to operate beside Hervé (Charles Berling) in these negotiations. Meanwhile two companies are battling for the rights to Volf's new images on the Web: Mangatronics and Demonlover, and it turns out Mangatronics has recruited Diane to sabotage Demonlover from the inside... Demonlover makes skillful use of extreme close-ups and intense sound. The wedding of image (by Denis Lenoir) and music (by Peter O'Rourke and Sonic Youth) creates a dreamlike, hypnotic effect. But what is happening? Somewhere half way through the plot virtually disintegrates before our eyes. The same promo sheet says it's no more complicated than James Bond movie, but this is unfair, because in Bond movies the good guys and bad guys are usually quite clearly defined, and here they distinctly are not. There is something mean spirited, too, in the way every nationality is abused: the Japanese are patsies, the Americans are boors, and the French are rude and exploitive. The latter part of Demonlover, in short, gives the appearance of having been edited more for audiovisual effect than for narrative coherence. Despite the intriguing audiovisual experience the film offers, our interest in the plot and the characters with which the film begins is never satisfied. Another source of dissatisfaction comes from claims to timeliness and significance. The filmmakers seem to think that buying and selling anime is a significant indicator of media manipulation. But whether it's magazines or 3-D manga, pornography and the imaginative or financial involvement in it are nothing new. The way media is getting into the hands of a smaller and smaller number of mega companies is significant, but that's not Assayas interest. Anyway, it's usually better not to try too consciously to be cutting edge, as Assayas statements show him to have been doing in Demonlover. The actors are working hard, but their efforts are largely wasted. Connie Nielson, who has the bulk of screen time, is wonderful to look at. Her face is elegant and teases. In the end, Demon Lover starts off as a beatuifully shot film but sadly, the second half loses strength and the story goes nowhere. Story: D+ Acting: B+ Direction: C- Visuals: B Overall: C+ **1/2 out of 4 star
Matthew Rodrigues
Super Reviewer
Very boring, strange, confused and ridiculous story that takes us deep into the underbelly of the illicit and financially lucrative world of 3-D animated pornography. Connie Nielsen, or her character, is in focus of the movie. And she does somewhat of a good job trying to keep it together. But it must be hard when the director intentionally cuts crucial parts of the story, leaving the audience guessing, and the character development nonexistent. Instead we get unmotivated scenes with porn or nudity.
Dean McKenna
Super Reviewer
Demonlover Quotes
There are no approved quotes yet for this movie.