Demons 2: The Nightmare Returns
(1987)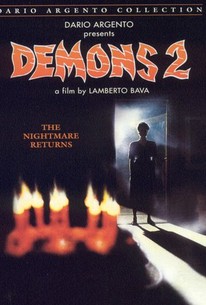 Movie Info
Writer-producer Dario Argento and director Lamberto Bava follow up their gory shocker Demoni with this derivative sequel, basically a carbon-copy of the original. Whereas the first film featured demonic forces emerging from a horror movie to possess theater patrons, this new crop of demons enters the world when a young girl watches the same horror movie on television. Emerging from the TV screen (in a shot reminiscent of Videodrome), the evil forces swiftly take over a high-rise apartment building, transforming tenants into fanged, slobbering marauders. Sealed off within the building, the occupants quickly fall prey to the beasts (not even the family dog is immune to demonic influence) and are either eaten alive or possessed themselves. Despite some clever makeup effects and well-mounted shocks, Demoni 2 falls far short of its predecessor... which itself seemed derivative of George A. Romero's Dead trilogy, the wellspring of choice for so many Italian horror filmmakers throughout the 80's.
Critic Reviews for Demons 2: The Nightmare Returns
Audience Reviews for Demons 2: The Nightmare Returns
Considering that the first Demons film was such a great experience to watch with terrific gore effects, a wicked concept and awesome soundtrack, you'd think that the sequel would be just as great. Well unfortunately this film has it flaws; nonetheless it's still a fun horror film for gore hounds everywhere. The first film was set in a theatre, but this time the setting shifts to an apartment building. I enjoyed the film, but I felt that the film could have been better. The effects were good, but compared to the first film, didn't even match the original. Another thing that was a slight disappointment was it felt that it was using the same formula established by the original Demons. Despite this, this film is fun from start to finish and it is nonetheless worth seeing if you loved the first film. The cast do a good job here, and Lamberto Bava does a good job as director. Bava has an effective understanding of how to create a tense and atmospheric horror film, and he most certainly does that with Demons 2. His understanding of how to create good gore to elevate the film's plot is what makes him standout. As a whole, this is a satisfying sequel that has minor flaws, but it does entertain enough to be a memorable little chiller. The special effects though not as great as the first still look good and are the standout aspect of the film. This film is good from start to finish, just don't expect it to as great as the original.
½
Okay, first of all, anybody who is expecting The English Patient from a movie called "Demons 2" will be sorely disappointed. This is an 80s low-budget Italian horror movie and as such has serious plot, dubbing and acting problems. That said, this is actually a very good movie for the genre. The connection to the original movie is a bit blurry but it does try to connect the two together. Apparently somebody made a movie about the first incident, and it is this movie that "infects" a new building filled with badly-dubbed Italian actors. The make-up effects are quite good, and the demons pretty unsettling. I'd say this movie is on par with the original Demons (largely because it is almost exactly the same movie). This is a pretty brutal movie. None of the humorous subtext that you'd find in the "Nightmare on Elm Street" sequels, "Scream" or most other modern horror movies. Nope. Just a bunch of people desperately fighting to survive, and not doing a very good job of it. They aren't all stupid either....they do try. Unfortunately the screenwriters arranged it so that all the windows are unbreakable, and the electric doors unable to be opened. The movie also breaks some horror movie taboos as children were surprisingly made into victims. On a lighter note, I would also say that this is the first horror movie I have ever seen (barring Antichrist/Second Coming films)in which a character goes into labor while fighting demons. An entertaining horror movie.....Never looked at my watch once
Cassandra Maples
Super Reviewer
Having revisited the film, I now find the similarities between the two films actually aids enjoyment rather than detracts from it. Furthermore, with expectations out of the way, there's far more unintentional comedy in the sequel than I had originally realized.
Demons 2: The Nightmare Returns Quotes
There are no approved quotes yet for this movie.