Demons Never Die
(2011)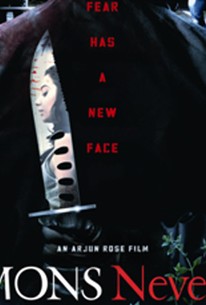 Movie Info
Eight very different London students have one deadly secret: they have all made a pact to end their lives together. However, a mysterious masked killer emerges from the shadows to grant their death-wish in a more terrifying fashion than they could ever have imagined. Misfit Archie, model Samantha, wide-boy Kenny, star pupil Ashleigh, conflicted Sachin, goth-girl Jasmine, and weakling James are all battling their own private demons, from eating disorders to lost parents. But as a much deadlier assailant hunts them down one by one, their quest for death becomes a desperate fight for their lives. Can these friends survive long enough to discover what they have to live for? Or will their bleeding hearts be brutally slashed wide open?
Critic Reviews for Demons Never Die
Audience Reviews for Demons Never Die
Good to see the English having a go at a slasher film.....but why does it always have to be so low budget. Tulisa makes a 5min appearance, so not sure why on the cover of the DVD....bit of a marketing ploy there. Interesting take on the idea but the plot just twists in totally random directions at times. It was a nice surprise to see some of it filmed in and around Hammersmith in London where I used to live!
½
This is a pretty terrible movie and yet compelling to watch to the end! Although an interesting concept and although intriged to see what is going on, when your eventually enlightened to the answer its a pretty poor ending and your left going 'what the hell, was that all about'! I would normally refuse to recommend this movie, however with some of the characters they make the movie a bit like Alan Rickman in Robin Hood, so particularly for some of the humourous characters in the movie it is a little worth the watch!
Film Crazy
Super Reviewer
Demons Never Die Quotes
There are no approved quotes yet for this movie.