Demons of the Mind (Blood Evil)(Nightmare of Terror)(Blood Will Have Blood)
(1972)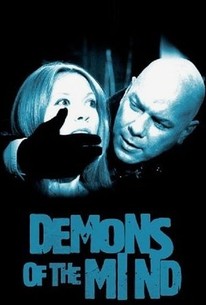 AUDIENCE SCORE
Critic Consensus: No consensus yet.
Demons of the Mind (Blood Evil)(Nightmare of Terror)(Blood Will Have Blood) Photos
Movie Info
Hammer Films apply their characteristic Gothic touch to this offbeat psychological thriller about a bombastic 19th-century Baron (Robert Hardy) who keeps his two adult offspring imprisoned in the family estate, convinced they are afflicted by an evil curse of madness passed down from their late mother. Unfortunately, they're not the only ones to worry about: it seems a spate of recent murders in the surrounding village are being committed by his son (Shane Briant), who is being manipulated by his father's deranged will to leave the castle and act out Dad's twisted, violent fantasies. Superb photography and good use of locations lend a rich atmosphere to this psycho-costume-drama, and Patrick Magee turns in a good performance as the family doctor (somewhat reminiscent of his role in Coppola's Dementia 13). Director Peter Sykes keeps the horror fairly subdued until the bloody "shock" ending, which seems to spoil the mood a bit.
Critic Reviews for Demons of the Mind (Blood Evil)(Nightmare of Terror)(Blood Will Have Blood)
All Critics (2) | Fresh (2) | Rotten (0) | DVD (1)
Demons of the Mind is a welcome contribution to the series of films and deserving of a new Blu-ray release.
There are really too many story threads here to tie together in a single film and at times the deliberate disorientation blurs into real incoherence, but Demons Of The Mind is nevertheless a bold attempt at doing something different.
Audience Reviews for Demons of the Mind (Blood Evil)(Nightmare of Terror)(Blood Will Have Blood)
A totally insame film from Hammer that suffers from a incoherant plot and some ridiculously over the top acting. Hammer wasn't at its best in the 70's and whilst there's some interesting ideas here and some great nudity and pointless violence (the hand chopping at the end, whilst pointless, is brilliant) the whole thing doesn't hang together very well. Brownie points for Hammer to attempt to focus on the psychological horror rather than the typical vampires and zombies but although the whole thing looks like it was fun for the actors it doesn't work half as well for the audience!
David Sayers
Super Reviewer
There are many films like this - brilliant, thoughtful, stylish, inventive, provocative - that are largely forgotten because they were made by Hammer. Scan through the recent list of the BFI's 100 best British films, and there are very few gems like this. Apparently, its alright to reappraise Ulmer, Lewis, Fuller et al, but we British are above that kind of thing. If you ever see DEMONS, or something like THE PLAGUE OF THE ZOMBIES, on your TV listings, don't overlook it. It's always the snobs who lose out. This is an astonishing film, a success in every way, a truly thoughtful horror film. The story concerns an aristocrat who believes his family line is infested with bad blood. He had married a peasant woman to offset this, but has instead infected the peasantry as well. He has locked up his son and daughter, and is bleeding them, to stop the rot. Meanwhile, peasant women are being raped and murdered throughout his estate. From such a scenario, ripe for exploitation, is weaved a remarkable series of themes and variations. The film's first image is of a horse and carriage rushing through a forest, a white hand groping outside, only to be pulled back. Like THE AVENGERS, the best Hammer films revealed the horrors and insanities lurking behind placid, heritage, British rural life. On the surface is a gorgeous idyll - a beautiful Big House, a forest, grassy rivers. Beneath is incest, madness, hysteria, paganism, murder. The house, like most horror films, is a metaphor for the mind. It is literally a prison, but also a labyrinth, mirroring the maze created by the disjointed gazes of the occupants. There are some amazing long shots of the house's inside, haunting, vastly empty, tilted - a mind off balance. The family is no longer a site of continuity and order, but discontinuity, inbreeding, misery and chaos. But the house also shares the literary association as a figure for the state, and the poisonous madness within affects the peasantry too. They partake in pagan rituals, follow mad, gibbering priests, who offer destruction, not redemption, and become a terrifying, cross-burning lynch mob, roaming the country. Ironically, the film is set at the beginning of the century, and Freud's contemporary attempts to throw light on the darkness of the mind is alluded to, and compared to the descent into medieval dank of the film's characters. BARRY LYNDON shares many of this film's themes, and it's hard to believe Kubrick never saw it - both feature Michael Hordern and Patrick Magee. The creation of an actual world mirroring a psychological world is superbly realized. The two levels co-exist, intertwine, and some of the film's most extraordinary and beautiful images are visualizations of Freudian symbols and ideas. Like many great horror films, this is a family saga, but a very mature one. Its refusal to demonize adds greatly to the helplessness of the terrors. Its 'closure' is as bleak as ever Hammer dared. A masterpiece.
Cassandra Maples
Super Reviewer
Demons of the Mind (Blood Evil)(Nightmare of Terror)(Blood Will Have Blood) Quotes
There are no approved quotes yet for this movie.