The Dentist 2: Brace Yourself
(1998)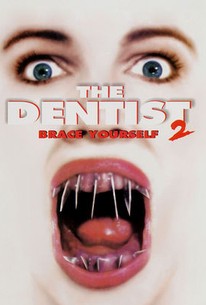 Movie Info
Homicidal dentist Lawrence Caine (Corbin Bernsen) escapes from the maximum-security mental hospital he was sentenced to in the previous film, establishing a new practice under a new name in a serene Midwestern town. He hopes to live a normal life with his new girlfriend, but when he catches her in bed with another man, he snaps. Now, he's on another demented killing spree -- and his patients are the unfortunate victims.
Critic Reviews for The Dentist 2: Brace Yourself
There are no critic reviews yet for The Dentist 2: Brace Yourself. Keep checking Rotten Tomatoes for updates!
Audience Reviews for The Dentist 2: Brace Yourself
½
Disappointing sequel to an average Slasher, The Dentist 2: Brace Yourself is essentially the same film, and watching this film, you realize that a sequel to The Dentist was unnecessary. This film fails at being an entertaining and fun film; instead it becomes a tiresome and boring picture that just offer anything new or interesting. The script's writing is poor and there is redeeming aspect. In the end, this is a film where we've seen it all before. The gore effects of the first were great and disturbing, here they still are, but it becomes less shocking as everything that is presented on-screen is very predictable. The film is ridiculous and laughable. As the first film had a pretty terrifying thing going on, this second offering really goes against what the previous film established and plays out more like a comedy horror film. The dialogue is poorly written and there's so many cringe worthy lines. Stick with the first film, and don't bother watching this tiresome, clichéd film that just uses its gore effects to try and shock you, instead of being a terrifying horror going experience. Overall, this is a sloppy sequel to a good little low-budget Slasher. There's nothing here to really enjoy, although it may appeal to the most diehard fan of the original. I, on the other hand, really can't recommend this film as I found it to be a missed opportunity to create an effective sequel to a good film. If you liked the first, don't bother with this, as it's just an over the top version of The Dentist. Everything here just fails to thrill.
The Dentist 2: Brace Yourself Quotes
There are no approved quotes yet for this movie.