Derailed
(2005)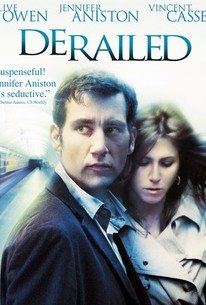 Movie Info
A married Manhattan ad man, Charles Schine, falls in lust with a sexy younger woman he meets on his commuter train, but when they meet in a hotel it goes terribly wrong. An armed man bursts in, beats Charles, rapes his date and then blackmails Charles for a staggering amount of money. Charles tries to fight the blackmail by hiring muscle, a disastrous move that gets him into potentially dire legal trouble, as does his agreeing to participate in a company scam in a desperate bid to make back some of the blackmail money.
News & Interviews for Derailed
Critic Reviews for Derailed
Audience Reviews for Derailed
The fear of the inner city dirt and grit and slime exploited bigtime with this cautionary tale about a innocent and naïve businessman (?!?) seduced into an affair that explodes in his face quite literally. Everyone performs okay, only wanting for common sense from the script in this okay thriller.
Kevin M. Williams
Super Reviewer
Rewatched last night after many years. I actually could remember the twist in this one, and actually it's glaringly obvious anyhow, which I don't recall it being first time around. Still a good movie. Jennifer Aniston does a good job here. And quite different to some of the fluff she's normally associated with (not a criticism - I've enjoyed a lot of it over the years. I actually do think she's a good and quite versatile actress). I did have to suspend disbelief quite a few times with some of the things that happen- seemed way too easy. Particularly what happened at the very end - as if someone would get away with that. Ditto to the hotel scene (second one). But decent thriller. Well cast and looks good.
Nicki Marie
Super Reviewer
So I was gonna watch the JCVD thriller called 'Derailed' but after the first five minutes I realised I had the wrong film haha so I stuck with this despite Aniston being involved. Honestly I was pleasantly surprised with this thriller, you don't think its a thriller and you don't see the quite decent twist in the plot, but its actually pretty good. I won't go into the plot for fear of spoiling it but its all about double cross, setups, scams...basically naughty lying laced with blackmail. Bottom line the film is carried by an excellent performance from Cassel who is really quite evil looking and convincingly aggressive. His scrawny frame is deceiving as is his change in character to get into Owen's life which gives him the kind of presence that sends shivers down your spine, the fact that he won't stop makes him nasty and scary. Owen does a good job as the husband in dire straits as he battles against the demands of Cassel's character, he looks the everyman and plays it well. Unfortunately Aniston simply cannot shake her comedic background and just cannot convey a decent performance in drama as far as I'm concerned, she just isn't convincing, purely a TV actor period. For some reason someone thought the casting of 'Xzibit' and 'RZA' was a good move for this film, errrr no, they add nothing in their roles and I don't understand why they were even considered when simple more toned down characters would have been better. And can someone explain to me whenever these 'musicians' are cast in films the end credits always seem to role with a lame rap song? is that part of their deal or something!? completely wrong choice of music for the end credits here, totally ruins the feel. From a slow start which feels like its gonna be crap to a pretty good thriller which does get you involved as the plot gets deeper. I didn't see the plot U-turn and it really makes things interesting as you root for Owen's character, before that its a little annoying as you tend to blame Aniston for his ever mounting problems but after the twist you see why.
Phil Hubbs
Super Reviewer
Derailed Quotes
There are no approved quotes yet for this movie.