Derek
(2008)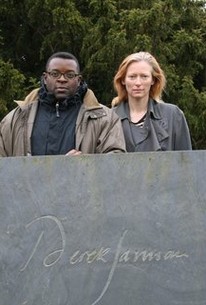 Movie Info
Actress Tilda Swinton collaborates with director Isaac Julien on this richly textured tribute to the late British filmmaker Derek Jarman. In 2002, Swinton penned the text entitled "Letter to an Angel" in memory of her deceased friend and collaborator. In this film, that elegiac piece of writing is carefully woven with a previously unseen interview with Jarman to create a highly original biography that doesn't rely on talking-head interviews but instead a dreamlike flow of images and observations. Jarman's old family films flicker across the screen as his parents recount his early life and adolescence, and excerpts from the director's films offer insight into the passion of an artist who flouted convention to create a truly unique body of work.
Cast
Audience Reviews for Derek
½
Thankfully, "Derek" has nothing to do with Derek Jeter.(Sorry, Mets fan.) Rather, it is an endearing documentary about Derek Jarman, an iconoclastic film director who challenged the status quo both politically and aesthetically, who died of AIDS related complications in 1994. Along with clips from his films and archival footage, the documentary mostly consists of a 1990 interview with Jarman which serves as a narration on his life and work, detailing the creative and political influences on his movies. After a chance meeting with Ken Russell, Jarman, an underground artist at the time, was hired to design the sets for "The Devils"(Now, there is a movie I have to see one of these days...) which turned out to be his introduction to making movies. His political involvement in movements against Thatcher and militancy for gay rights would inform even his historical films, especially "Edward II," with Jarman's signature use of anachronisms, leaving them unstuck in time and making them relevant for all times, especially the present day from which Her Timelessness Tilda Swinton recalls their collaborations and friendship.
Derek Quotes
There are no approved quotes yet for this movie.