The Descent
(2006)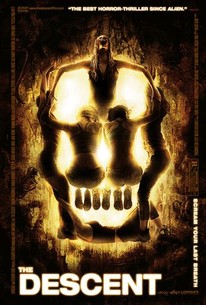 TOMATOMETER
AUDIENCE SCORE
Critic Consensus: Deft direction and strong performances from its all-female cast guide The Descent, a riveting, claustrophobic horror film.
Movie Info
A group of close female friends on a yearly adventure vacation find themselves trapped and hunted in a series of caves by an unknown force that lurks in the shadows in The Descent, the second horror feature from Dog Soldiers writer/director Neil Marshall. After suffering a devastating car crash one year before, Sarah (Shauna Macdonald) is lured to the States with her friend Beth (Alex Reid) to a special spelunking trip by the fearless Juno (Natalie Mendoza), who abruptly fled from the U.K. after Sarah's accident. Along with two old friends and a new acquaintance of Juno's, the group embark on a cave expedition that takes a turn for the worse after a rock fall leaves them stranded in an uncharted cave with no map and only a handful of supplies to last them the rest of the trip. As tensions arise in the group, they are faced with another danger -- one whose love of the dark is as strong as its lust for blood. Opening to rave reviews in the U.K. in July of 2005, the creature-feature went on to show at the Venice Film Festival and garnered the top prize for Euro feature at Sweden's Fantastic Film Festival. The Descent was picked up for future U.S. distribution by Lion's Gate, whose work was cut out for them considering the tame opening of the similarly-themed stateside production of The Cave in late-August of the same year. ~ Jeremy Wheeler, Rovi
Critic Reviews for The Descent
Audience Reviews for The Descent
Very bloody at times but not as scary as I thought it would be. Still very good though.
½
A near-masterpiece of a horror film. One of the most terrifying and suspenseful movies I've sat through. It's a gory, messy, dirty, and bone-breaking movie that deserves to be seen. Most critics gave this a solid rating, but I feel this was an extraordinary movie. The score is brilliant as well, adding an "epic" feel to this...well, epic journey down in the caves of the Appalachian Mountains. The ending will leave you haunted for a while, definitely a movie that will stick with you. Every two or three years a great horror movie comes out. This is hands down the bet horror film from the 00's.
Dan Schultz
Super Reviewer
½
[img]http://images.rottentomatoes.com/images/user/icons/icon14.gif[/img] I think that Neil Marshall is one of the greatest horror directors working in the business today. I clearly remember when I first saw his debut feature Dog Soldiers a few years ago that I was left feeling terrified, but also laughing in my seat at it's hilarious black humour. His second feature, The Descent, is one of the most serious movies I've seen in a while, and that's saying something when you consider how horror movies have become a lot funnier than scarier in recent years. Having said that this is an absolutely brilliant film. The Descent started by petrifying me, giving of a wince inducing sense of claustrophobia and total isolation. But as it progresssed so skillfully treading into more disturbing and darker territory I was feeling more and more horrified. I love horror, it's undoubtedly one of my favourite film genres, but i've toughened up on them over a long period of time and not scared easily. However I was literally shaking after seeing this. It's also got everything a horror fan could possibly wish for. Director Neil Marshall clearly loves horror as much as we do, he brings together all elements of the genre, psychology, gore, monsters, kills, murkiness, and of course the "last girl." He offers countless bloodbaths throughout the flick and each scene is shot by Marshall carefully, with a beautiful visual style. Due to the compressed environment in which the plot is set, the film also uses it's imagination to bring on the scares rather than ending up becoming cheesy, then succumbing to the usual means of deaths in horror films. His script features incredibly realistic dialogue that truly aids you in investing your sympathies to the characters. In addition I found the cinematography eye popping and downright stunning, the acting compelling, and the crawlers in the caves constantly scary and creepily animated. To put it simply, The Descent get's weirder, bloodier and nastier after every twist and turn, leaving you right at the edge of your seat. Before unbeknownst to us throwing it's audience back into them again in complete fear. I just couldn't ask anything more from a horror film. It's outright demonic with just a slight pinch of feminism from it's all female cast, and quite easily the perfect fright flick for Halloween. Without contest it's one of my favourite horror films of all time, and eventually it will become a timeless British horror classic.
Directors Cat
Super Reviewer
The Descent Quotes
| | |
| --- | --- |
| Juno: | Sam, stop poking it with a fucking stick. |
| | |
| --- | --- |
| Holly: | The queen is dead. Long live...the fucking queen! |
| | |
| --- | --- |
| Sarah: | What about you Holly, got a man? |
| Holly: | Oh, I'm a sports fuck like Juno. |
| | |
| --- | --- |
| Beth: | You put in a flight-plan, right? If we don't report in they'll come looking for us. |
| Rebecca: | That's how it's supposed to work, except I put in a flight-plan for Boreham Caverns and this isn't Boreham Caverns, is it Juno? |
| Beth: | We're in the wrong fucking cave! |
| Juno: | Holly was right! Boreham Caverns was a tourist trap! |
| Holly: | Don't try and pin this fucking shit on me! |
| Rebecca: | This is not caving, this is an ego-trip. |