Disengagement
(2007)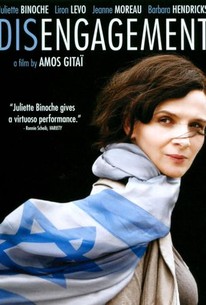 AUDIENCE SCORE
Critic Consensus: No consensus yet.
Movie Info
Forced Israeli evictions from the Gaza Strip yield tremendous personal strife for a pair of cross-cultural lovers in Disengagement, director Amos Gitai's meditation on the complex relationship between interpersonal and national politics in the Middle East. Juliette Binoche stars as Ana, a woman of mixed Dutch and Palestinian origin residing in Avignon, where her biological father has just died. Newly arrived in town is her adoptive brother, the Franco-Israeli Uli (Liron Levo), with whom Ana shares a relationship so passionate that it consistently transgresses sibling boundaries. While Uli comes to terms with his foster father's passing and prepares for an upcoming work assignment that involves aggressively shuttling Israeli settlers out of Gaza, Ana visits her father's attorney (French screen legend Jeanne Moreau), takes the steps to end her unfulfilling marriage, and hopes to make contact with her long-abandoned daughter, currently residing in the Israeli settlement of Gaza. To achieve this goal, Ana insists on accompanying Uli during his trip -- but doesn't count on numerous complications that arise, including a forced separation from Uli and lengthy travels with the settlers themselves, who have grown doggedly certain that God would never allow their geographic displacement to occur.
Critic Reviews for Disengagement
Audience Reviews for Disengagement
So what do you do with a filmmaker whose technical skills far outweigh any ability to tell a story or get a valid point across? Case in point, Amos Gitai. I was wowed by his film "Kadosh" but since then it has been a series of frustrations. His film "Disengagement" gets off to a promising start, however, with an encounter between a Palestinian woman(Hiam Abbass) and Uli(Liron Levo), who is on the way to Avignon for his father's funeral, on a train, captured expertly in a single shot. To ease him off the mortal coil, Uli's half sister Ana(Juliette Binoche) arranges to have a singer(Barbara Hendricks) serenade him in a beautiful and touching scene. And then about halfway through, when Jeanne Moreau puts in an appearance, it suddenly becomes apparent that the story has not even begun. That story is centered around the Gaza Disengagement wherein the Israeli army rightfully told the Jewish settlers in the Gaza Strip to get lost. Somehow, both Uli, an Israeli soldier, and Ana end up getting involved. Up until then, she has been acting like either a 12-year old or Marilyn Monroe(sorry, I've been watching "Smash" lately), which is especially strange coming from Juliette Binoche, but now suddenly acts with a renewed sense of purpose. On a political level, Gitai, who loves his tracking shots, provides little in the way of insight, especially on the subject of identity, just a lot of people shouting at each other, with just as much attention given to the plight of the family car.
Disengagement Quotes
| | |
| --- | --- |
| Ana: | Cowards die many times before their deaths. The brave never taste of death but once. |
| Ana: | Cowards die many times before their death. The valiant never taste of death but once. |