Desert Blue
(1999)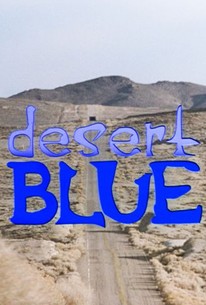 Movie Info
Morgan J. Freeman directed this comedy-drama that takes place in the desert town of Baxter Beach, California, where the locals, lookers, visitors and slackers include dreamer Blue (Brendan Sexton III), pipe-bomb babe Ely (Christina Ricci), all-terrain-vehicle champ Pete (Casey Affleck), nerdy Sandy (Sara Gilbert), TV star Skye (Kate Hudson), and chubby Cale (Ethan Suplee). Blue's dad, who had hoped to bring water to the town, died mysteriously in a hotel fire, leaving an abandoned water slide, and Blue hopes to fulfill his father's dream by completing the water slide attraction. Actress Skye is just passing through with her father, a pop-culture prof. (John Heard), but they're forced to stay in town after a truck-spill leads to a quarantine and the presence of both an FBI agent (Michael Ironside) and an EPA agent (Aunjanue Ellis). Skye gets caught up in local fun and games (orange baseball, potato cannon salvos), while her dad reminisces about the '60s with UFO fanatic Caroline (Lucinda Jenney). Shown at the 1998 Toronto Film Festival.
Critic Reviews for Desert Blue
Audience Reviews for Desert Blue
½
A small town in the California desert and a young all star cast (with an appropriate alt/indie soundtrack supporting them) consider metaphysical stuff. Meant to be cooler than it actually is cool, everyone does manage to look mah-velous. Like the town though nobody's going anywhere.
Kevin M. Williams
Super Reviewer
Cast: Casey Affleck, Brendan Sexton III, Kate Hudson, Christina Ricci, John Heard, Ethan Suplee, Sara Gilbert, Peter Sarsgaard, Lee Holmes, Michael Ironside Director: Morgan J. Freeman Summary: When the FBI quarantines a seemingly nondescript town that boasts a random roadside attraction -- the world's largest ice cream cone -- visiting starlet Skye (Kate Hudson) and her father (John Heard) encounter an assemblage of memorable locals they won't soon forget. My Thoughts: "This is an offbeat movie with a great (then) young cast. Great quirky character's that some us small town grown kids can relate to. Not much to do in small towns, so you have to entertain yourselves somehow. Liked their choices of fun, it was entertaining to watch. Had some funny moments, and was never boring. But this is much more of a dark comedy. Had some deep stuff going on with Brenden Sexton III, character. It was nice to see him in a somewhat leading role. Definitely worth the rental."
♥˩ƳИИ ƜѲѲƉƧ♥
Super Reviewer
½
It's amazing how much cool stuff can come from a town as small as Baxter. This is a very small, character-driven movie, and I love the portrayal of the ways in which the town natives amuse themelves in the desolate desert. The casting was really good too, as was the script. Props to everyone involved.
Emily Armstrong
Super Reviewer
Desert Blue Quotes
There are no approved quotes yet for this movie.