Desert Fury (Desert Town)
(1947)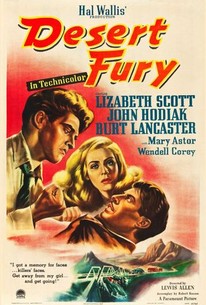 Desert Fury (Desert Town) Photos
Movie Info
Desert Fury is a rarety for the 1940s, a Technicolor "film noir." Set in a Nevada gambling town, the story concerns the various misadventures, romantic and otherwise, of Paula Haller (Lizabeth Scott), the rebellious daughter of gambling-house proprietress Fritzie Haller (Mary Astor, who steals the picture). Though no better than she ought to be, Fritzie is determined that Paula will not grow up as a "shady lady", but she'd fighting an uphill battle. John Hodiak plays crooked gambler Eddie Bendix (John Hodiak), who tries to exploit Paula's fascination with him for his own gain. Thank heaven that upright lawman Tom Hanson (Burt Lancaster) is on hand to rescue the heroine from the machinations of Bendix and his partner-in-perfidy Johnny Ryan (Wendell Corey). Desert Fury was adapted from the far racier and more explicit novel by Ramona Stewart.
Critic Reviews for Desert Fury (Desert Town)
Audience Reviews for Desert Fury (Desert Town)
½
Richly color saturated noir that Mary Astor walks off with even though she's a supporting character. You can tell this was made early in Lancaster's career considering his part is so small. Lizabeth's car is drool worthy. Solid drama.
well this is just a hoot IF u can find it. it's a completely oddball technicolor noir with a very strong gay subtext, completely subverting the hayes code of the period. as a friend of mine put it, it's as if tennessee williams wrote a western. lizabeth scott looks amazing but mary astor steals the film. also this was technically burt lancaster's debut, altho it was held back from release for nearly a year. filmed in central arizona's verde valley where things haven't really changed much
Stella Dallas
Super Reviewer
Desert Fury (Desert Town) Quotes
There are no approved quotes yet for this movie.